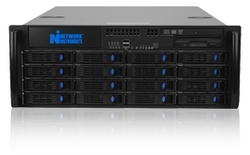 Observer not only provides deep drill-down visibility into network problems, it provides back-in-time analysis, reporting, trending, alarms, application tools, route monitoring, and more.
Westlake Village, CA (PRWEB) February 16, 2010
NextGig Systems, Inc. a provider of industry leading network connectivity, monitoring and testing solutions, announces the signing of a reseller agreement with Network Instruments, a worldwide leader in network performance management. The agreement brings the Network Instruments full line of products including Observer® and GigaStor™ to NextGig Systems enterprise IT customers.
"We are very excited to offer the Network Instruments Observer platform to our customers," said Rob Esau, CEO of NextGig Systems. "Observer not only provides deep drill-down visibility into network problems, it provides back-in-time analysis, reporting, trending, alarms, application tools, route monitoring, and more."
NextGig Systems is dedicated to helping network engineers and IT professionals accomplish their goals by providing them with the best-of-breed technology solutions, services and support.
"We're excited to partner with NextGig Systems," said Bruce Clark, vice president of sales at Network Instruments. "They have years of experience helping companies optimize network and application performance. Our company's unprecedented growth is largely due to partners like NextGig, who provide quality solutions to their customers and most important focus on first-class support after the sale."
Performance Solution Highlights
Rewind Your Network - Stop missing critical network events. Instead, rewind your network to quickly troubleshoot sporadic performance problems. The GigaStor network recorder provides massive data collection and unique time-based analysis that eliminate the need to recreate problems, rapidly decreasing resolution time. The GigaStor can store up to 288 TB of network data for days, weeks, or months. Use GigaStor to navigate to the exact moment a problem happened, and see a detailed packet-level view of before, during, and after the occurrence. Monitor LAN, WAN, Ethernet, Gigabit, 10 Gb, OC, and Fibre Channel networks.
Top-Down Performance Management - Observer Reporting Server (ORS) offers a top-down approach that combines enterprise-wide views, macro- and micro-level reporting, and deep drill-down for problem resolution. ORS serves as the performance management center by combining captured packets along with NetFlow, SNMP, and sFlow® metrics to provide an overall view of network health. Using solution-centric workflows, navigate quickly from high-level performance reports to the root-cause.
All-in-One Troubleshooting - Observer Suite is the one-stop troubleshooting powerhouse. It contains Expert Analysis, VoIP tools, in-depth application analysis, Connection Dynamics, stream reconstruction, and more, plus support for SNMP and RMON device management. All this, plus the ability to generate and share reports via the web, add custom decode modules for use in proprietary environments, and extract data from external sources using SOAP.
Seamless Probe-Console Connectivity - Software and hardware probes for monitoring network activity across multiple topologies. Choose from a variety of probes to meet your specific needs. Use probes for troubleshooting, collecting NetFlow data, proactive monitoring, long-term data collection, or network forensics.
High-End Monitoring and Troubleshooting On the Go - When mobility matters, Network Instruments' portable analyzers are the only units you need to manage and troubleshoot complex Gigabit, 10 Gb, WAN, Fibre Channel, and OC problems throughout the network.
High-Level Resource Monitoring for Your Entire Network - Link Analyst® is a robust network monitoring solution that provides powerful reports, network mapping, active discovery, inventory capabilities, and configurable alarms. For any size business, Link Analyst provides insight into the devices on the network and the routes connecting them.
Since its inception, Network Instruments has striven to provide outstanding network troubleshooting and analysis solutions at competitive prices. From its strong beginnings to its current wide customer base focused on Global 2000 corporations, Network Instruments has maintained a culture of quality and innovation.
About Network Instruments
Network Instruments, a leading provider of performance management and troubleshooting for fifteen years, helps organizations ensure the delivery of business-critical applications. The company's platform of management and reporting products provides comprehensive visibility into networks and applications to optimize performance, speed troubleshooting, and assist long-term capacity planning. Network Instruments achieved profitability in its first quarter and posted revenue growth every year since its founding - without any external funding. Headquartered in Minneapolis, the company has sales offices worldwide and distributors in over 50 countries.
About NextGig Systems
NextGig Systems provides industry leading network connectivity, monitoring and test solutions for IT professionals and storage development engineers. NextGig's technology specialists have expertise with product information, demonstrations and in-depth evaluations. Our mission is to help our customers achieve their goals by providing them with the technology advice and products they need. We strive to develop strong relationships with our customers by operating with the highest level of integrity while offering quality products and excellent service. For more detailed information, product configurations and pricing, please visit http://www.NextGigSystems.com
###