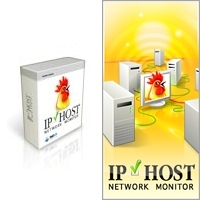 Novosibirsk, Russia (PRWEB) September 5, 2008
IPHostMonitor Inc, announced today the availability of IPHost Network Monitor v2.0, a cost-effective, easy-to-use network, server and application monitoring tool specifically designed for small- and medium-sized businesses with up to several hundred monitored devices and systems. IPHost Network Monitor is completely agent-less, so administrator can quickly implement a reliable monitoring and alerting solution.
Networks are an integral part of everyday business activities so maintaining the availability and performance of critical business applications, hosted services and network devices, becomes more and more essential to the efficiency, productivity and overall success of companies. Even a small company can lose hundreds of dollars per hour when their network is down. IPHost Network Monitor provides small and medium businesses with an affordable, complete and easy to use tool for network administrators, which ensures fast alerts on problems with helpful information to recover systems from downtime quickly.
IPHost Network Monitor has advantages over other network monitoring tools for SMBs in that it has more essential and advanced features at a very affordable price, making it an ideal solution for SMB customers. For example, Internet monitor supports HTTPS, POST requests, connection via proxy, several authentication methods (including NTLM) and response validation, whereas some of the high-priced tools do not even support HTTPS, not to mention authentication. The IPHost Network Monitor capabilities include:

Quick discovery of IP-based network services on devices in your network and automatic start of monitoring with thoroughly devised settings for each monitor. It helps you to start monitoring in a few minutes and to complete monitoring configuration in a matter of hours not days thus saving administrator time.
Availability and performance monitoring of different web, e-mail, database and other servers. The list of supported protocols includes HTTP, FTP, IMAP, SMTP, POP3, ODBC and others.
Decent support of two main network and server monitoring and management technologies: WMI for Windows-centric environment and SNMP for monitoring Unix/Linux networks and network equipment. The SNMP browser with support of MIB import allows easy selection of SNMP variables to monitor.
Two usable user interfaces: a Windows interface for managing monitoring configuration and review of basic reports and graphs, and a Web interface that shows various reports and graphs for in-depth analysis of the monitoring results. With just one quick look, the administrator or business owner can get an overview of the status of systems and applications in their network from any web-enabled device. The tree views that group monitors (by host, by monitor type, by current monitor state, favorite monitors) make it easy to locate a problem or navigate through reports.
A developed alerting system with e-mail and SMS notifications. In order to reduce downtime support for automation of recovery actions is provided.
Pricing and Availability
IPHost Network Monitor is designed for Microsoft Windows 2000/XP/Vista and Server 2003/2008. The 30-day trial version with the full set of features limited to 10 monitors can be downloaded at http://www.iphostmonitor.com/iphostmonitor.exe . The software is priced at USD $250 per license including one year of maintenance. Free technical support is provided by e-mail.
Publisher & Editorial Information:
IT reviewers are encouraged to use this press release and any other related materials. We will be pleased to grant you a free registration key. If you do not consider electronically distributed software, please e-mail us with the details of your postal address and we will send you a jewel case. Cover media editors are authorized to include the 30-day trial version of IPHost Network Monitor 2.0 in their CD/DVD-ROMs.
Interface Screenshot:
http://www.iphostmonitor.com/iphostnetworkmonitor_screenshot.png (194KB)
###