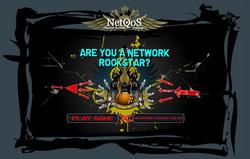 Austin, TX (PRWEB) March 12, 2009
Network rockstar wannabes can test their mettle starting today with the NetQoS® Network Rockstar Challenge (http://www.NetworkRockstarChallenge.com ). Designed to quiz the network performance management know-how of IT professionals, the interactive, lighthearted game consists of 10 hard-rockin' network-related questions of increasing difficulty.
All eligible players who register are automatically entered into a monthly draw for a Fender® electric guitar. With correct answers, players earn points and the right to be upgraded to one of ten different network rockstar characters. Players who put performance first and answer seven out of ten questions correctly achieve network rockstar status and go on tour. Anything less, and they're out in the alley! The top 25 eligible players on the leaderboard at the end of each month will also receive a Certified Network Rockstar t-shirt.
Highlights:

NetQoS has launched the Network Rockstar Challenge, an interactive trivia game designed to test the network performance management knowledge of IT professionals.
Players answer questions of increasing difficulty to earn points and the chance to be upgraded to different network rockstar characters.
Eligible players who register will be entered into a monthly drawing of a Fender electric guitar.
The top 25 eligible players on the leaderboard at the end of each month will receive a Certified Network Rockstar t-shirt. Winners will be notified via email.
About NetQoS Inc.
NetQoS provides network performance management software and services that improve application delivery across the world's most complex networks. More than 900 service providers, government agencies, and large enterprises - including half of the Fortune 100 - use the NetQoS Performance Center to monitor application service levels, troubleshoot problems quickly, and plan for change. Representative NetQoS customers include Chevron, Lockheed Martin, Reuters Group plc, American Express, Siemens, Boeing, Deutsche Telekom, NASA, and Barclays Global Investors. Headquartered in Austin, Texas, NetQoS has R&D centers in Austin and Raleigh, N.C., and regional sales offices in London and Singapore. For more information, visit http://www.netqos.com or call (877) 835-9575.
NetQoS is a trademark of NetQoS Inc. All other trade names, trademarks, and registered trademarks are the property of their respective owners.
Follow NetQoS on Twitter: http://twitter.com/NetQoSLive
###