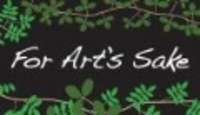 I want to help people gain new respect for modern art and understand the emotion and skill involved to create these amazing pieces
AUSTIN, Texas (PRWEB) August 16, 2007
A virtual "show opening," For Art's Sake is designed to expose viewers to modern art and the insights, inspirations and talent of the artists who create it. Each show features one-on-one interviews with artists and a behind-the-scenes look at their work and creative processes, including segments with sculptor John Frame, comic book artists Patrick Atangan and Brian Apthorp, and painters Peter Zokosky, F. Scott Hess and Kim Merrill, among others.
"I want to help people gain new respect for modern art and understand the emotion and skill involved to create these amazing pieces," Apthorp says. "The show provides a glimpse into artists' minds, giving them the opportunity to explain what they are thinking, feeling and trying to express through their work."
Sculptor John Frame recounts his early years when he recognized his creative desires and "spiritual calling" to be an artist. "Art is one of the most profound things you can do with your life," Frame says in an upcoming episode, noting that art "comes full circle" when the audience sees it.
For Art's Sake was created when Los Angeles-based Apthorp entered and won "The Competitive Challenge: Create a Show Pilot," a contest sponsored by ON Networks for Pixel Corps members, the global guild for professional and aspiring digital artists, to create a show on modern and contemporary art. Apthorp, a former graphic and product designer who now develops animatics for television ads, entered the contest because of her love of art and her interest in exploring professional-level video and audio programming.
"ON Networks wants to provide the most entertaining, informative lifestyle programs available today for viewers," says Jen Grogono, co-founder and vice president of content at ON Networks. "Our contest recognizes the creative talent of digital media producers such as Lori Apthorp and gives them an opportunity to be discovered by a wider audience."
For Art's Sake is one of several new programs being introduced by ON Networks, Inc. (ON), a new media company offering original, short-form shows produced in high-definition (HD) and available for multiple digital platforms, including the Internet, digital cable, IPTV and various mobile and gaming devices. Viewers can also download ON Networks shows for free from iTunes and watch them on an iPhone, iPod and Apple TV.
For Art's Sake can be watched anytime, anywhere at http://www.forartssake.tv. There, viewers can subscribe to receive email updates about new episodes, as well as get other program information. Other shows available at http://www.onnetworks.com are: Austin Connoisseur, Backpack Picnic, Bif! Bam! Pow! Wow!, Budget Health Nut, Cocktails on the Fly, Comedy Insider, Dinner with the Band, Feng Shui Your Way, Food Science, Golf Tips, I Am Blackness, Local Wisdom, Lust for Looks, ON Dating, Play Value, Sheltered, Stump the Chef, The 5-Minute Drill, Try This At Home, and Zen Living.
To share a For Art's Sake video, simply select the desired episode at http://www.forartssake.tv. Next, click on the mail icon or the "chain" icon in the player control bar. There, you can email the episode or view the embedded HTML player code, which can be copied and then pasted onto any web page.
About ON Networks, Inc.
ON Networks is changing the way traditional TV programs are created, distributed, consumed and monetized. It's a new media company delivering original, high-definition shows on-demand across multiple digital platforms, including the Internet, digital cable, IPTV, and various mobile and gaming devices. Offering lifestyle programs for a variety of pastimes and pursuits, ON's short-form, weekly shows satisfy the growing demand for relevant, smart and entertaining programming that is available when, where and how viewers want to watch it. Join the growing community of viewers and show creators at http://www.onnetworks.com.
About Pixel Corps
Joining together professional digital artists and enthusiasts alike, Pixel Corps is a worldwide guild offering extensive training, access to the industry's most advanced applications, professional-quality field assignments and community participation unlike anything else available. Through the Pixel Corps, members have the opportunity to participate in a variety of projects ranging from Podcast and feature film production to advancing their skills through specially designed challenges and seminars. Founded in 2002 by industry veteran, Alex Lindsay, Pixel Corps has grown to more than 1,500 members in over 36 countries. Pixel Corps also produces a handful of top industry Podcasts which have been recognized by Macworld Magazine and the Podcast Awards, and continuously reach 'top ranking' from Apple iTunes. The Podcasts produced by Pixel Corps include MacBreak, MacBreak Weekly, This Week in Media (TWiM), Inside the Black Box, and The VFX Show. For more information, visit http://www.pixelcorps.com.