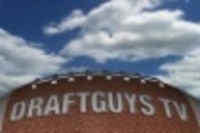 With Draftguys TV, we're delighted to offer the most in-depth NFL draft show to feed the daily football cravings of millions of NFL and college football fans
AUSTIN, Texas (PRWEB) March 19, 2008
Hosted by footballguys Sigmund Bloom and Cecil Lammey, Draftguys TV delivers player profiles every day through April 15. Episodes feature practice footage, training film, private workouts and exclusive interviews, as well as analysis from Sporting News Draft expert Russ Lande.
"With Draftguys TV, football fanatics will see the game as NFL scouts see it - up close and personal," says Bloom. "But instead of covering the top 10 high profile players, we feature the top 40 most intriguing prospects who have every chance of hitting it big."
"As original, digital entertainment hits prime time, ON Networks is delivering relevant, smart and interesting entertainment that can be watched anytime, anywhere and on any device," says Jen Grogono, co-founder and Chief Content Officer for ON Networks.
"With Draftguys TV, we're delighted to offer the most in-depth NFL draft show to feed the daily football cravings of millions of NFL and college football fans," Grogono says.
Draftguys TV is available online at http://www.draftguys.tv or as a free download from iTunes.
Subscribe to Draftguys TV by visiting http://www.draftguys.tv. To embed an episode on your website or blog or share the show with friends click either the "embed HTML" or "share video" icon on the selected episode's video player.
About ON Networks, Inc.
ON Networks is changing the way traditional TV programs are created, distributed, consumed and monetized. It's a new media company delivering original, high-definition shows on-demand across multiple digital platforms, including the Internet, digital cable, IPTV, and mobile and gaming devices. Offering lifestyle programs covering a variety of topics, ON's weekly shows satisfy the growing demand for relevant, smart and entertaining programming that is available when, where and how viewers want to watch it. ON Networks is a privately-held company backed by Accel Partners, Austin Ventures and AT&T. See tomorrow's television programming today at http://www.onnetworks.com.
ON Networks is a registered trademark of ON Networks, Inc.