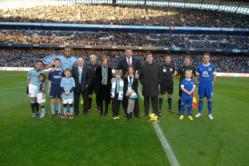 "I'm really pleased with the results, and I'm sure our customers will be too," - Matt Archer, MD
London, England (PRWEB UK) 31 January 2013
Networking suppliers ICP Networks Ltd have launched their new e-commerce website, NetworkSupermarket.
2012 saw ICP Networks record its best financial performance to date, and Managing Director Matthew Archer believes the new NetworkSupermarket venture will help the Cheshire firm consolidate on last year's successful performance.
"Last year was a big one for us," admitted Mr Archer.
"But we restructured a little bit to help facilitate future growth and decided to take a look at how the performance of our existing websites could be improved."
"We noticed that the requirements of our SME customers were changing; immediate availability and competitive pricing were becoming key factors in our client's buying decisions."
"So we set about designing NetworkSupermarket from scratch to service this need, quickly and efficiently."
"I'm really pleased with the results, and I'm sure our customers will be too," he added.
After a successful launch at the home of EPL champions Manchester City FC last month, the site has been undergoing fine-tuning and final tests.
It now includes a wide range of LinkSys SoHo networking and Cisco IP Telephony equipment to compliment the firm's enterprise offerings.
And Matt is sure that ICP Networks' reputation for quality and service can be successfully maintained, even with a higher volume e-commerce venture like NetworkSupermarket.
"When all your customers can see is your homepage, it can be challenging to get your values and message across," admitted Matt.
"For instance, we're currently working towards our ISO14001:2004 accreditation after attaining ISO9001:2008 certification last year. But we knew that we had to work hard to communicate our commitment to quality properly."
"So we've implemented the Feefo customer feedback system into NetworkSupermarket so that we can transparently demonstrate to new and existing clients just how we're doing," he added.
Since the establishment of the company in Wilmslow a decade ago, ICP Networks has developed into one of the North's foremost providers of new and refurbished networking and server-room equipment from all principal manufacturers, such as Cisco, Checkpoint (Nokia), Sun, Nortel, BlueCoat and HP ProCurve.
For further information, please contact:
Rob Steadman
c/o ICP Networks Limited
Unit 3 Deanway Business Park
Wilmslow Road
Handforth
Wilmslow
Cheshire
SK9 3HW
rob.steadman(at)icpnetworks.co.uk
http://www.icpnetworks.co.uk
AIM: ICPUKRob2010
DD: +44 (0) 1625 538 677
Mobile: +44 (0) 7545 702 158
Tel: +44 (0) 1625 538 660
Fax: +44 (0) 1625 538 661