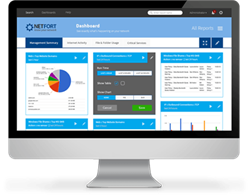 "Our customers and partners shape our LANGuardian roadmap, ensuring that we deliver innovative technology that is practical and easy to use in a business environment," said Andrey Lyubka, Director of Research and Development
Galway, Ireland (PRWEB) August 09, 2016
NetFort today announced the latest version of LANGuardian, its flagship network traffic and security monitoring software. This new release introduces a number of significant new features and performance enhancements designed to offer IT professionals more intuitive data and faster time to resolution for network issues.
NetFort LANGuardian provides comprehensive visibility across an organization's network in minutes. Its unique powerful deep-packet inspection technology can be used on physical or virtual networks of all sizes, for investigating, monitoring, and reporting on network and user activity.
Version 14.1 significantly enhances performance of data acquisition and reporting; while the new features include:

Periodic Backup which can be set to schedule an automatic backup
SSL Inventory feature enables LANGuardian to detect servers with expired or vulnerable SSL certificates
"Our customers and partners shape our LANGuardian roadmap, ensuring that we deliver innovative technology that is practical and easy to use in a business environment," said Andrey Lyubka, Director of Research and Development. "We are committed to continuously improving our product ensuring we deliver a solid and reliable solution. Because we have proven network traffic and security monitoring expertise, we are uniquely positioned to help IT professionals monitor their networks - having a single solution like ours, makes life easier for our channel partners to deploy too"
For additional information on all new features in LANGuardian 14.1, please see our release notes.
Note to editors:
About NetFort
Headquartered in Galway, Ireland, NetFort was established in 2002. Its customers include domestic and international organizations throughout the USA, UK and EMEA, ranging from SMEs to large enterprises with multiple locations. LANGuardian is used in a wide range of industry sectors including financial services, high technology, utilities, local and national government, automotive, healthcare, sport, and education.
For more information, visit http://www.netfort.com