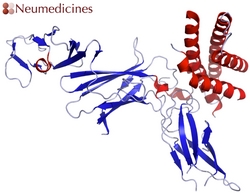 ...this patent extends our intellectual property protection around HemaMax™ (rIL-12) to 2026.
Pasadena, CA (PRWEB) January 31, 2011
Neumedicines Inc., a biotechnology company developing therapies for applications in oncology and hematology, today announced that it has received a Notice of Allowance from the United States Patent and Trademark Office (USPTO) for its U.S. Patent Application Number 10/886,267 entitled "Uses of IL-12 in Hematopoiesis." The Notice of Allowance is the USPTO's official communication that the examination of the patent application has been successfully completed and that a patent will be issued. Once issued, the patent will provide coverage for methods of treating thrombocytopenia, a condition of lower than normal platelet counts, in cancer patients with solid tumors receiving chemotherapy, also referred to as chemotherapy-induced thrombocytopenia (CIT).
"We are very pleased with the USPTO's decision to grant this patent which extends our intellectual property protection around HemaMax™ (recombinant interleukin-12; rIL-12) to 2026," said Lena A. Basile, Ph.D., J.D., President and Chief Executive Officer of Neumedicines. "This allowance and anticipated issuance of the patent highlight Neumedicines' belief in, and commitment to, developing HemaMax™ (rIL-12) for therapeutic applications in hematology and oncology."
This patent may qualify for up to 5 years of patent term extension under the provisions of the Hatch-Waxman Act, subject to certain limitations. Foreign equivalents of this patent as well as related patent applications are still pending and if granted would provide further market protection for HemaMax™.
About Chemotherapy-Induced Thrombocytopenia (CIT)
Chemotherapy-induced thrombocytopenia (CIT) is a condition of lower than normal platelet counts due to the hematologic toxicity of myelosuppressive and ablative therapy. The normal platelet range in a healthy adult human is 150,000 to 400,000 platelets per microliter. CIT is currently managed by allogeneic platelet transfusion and chemotherapy treatment dose reductions and delays. CIT puts patients at risk of bleeding, bruising, and a poor quality of life.
About HemaMax™ and Neumedicines Inc.
Neumedicines Inc. was founded in 2003 as a start-up company from the University of Southern California and is engaged in research and development of both prophylactics and therapeutics based on interleukin-12 (HemaMax™) for the mitigation and reversal of myeloablative and myelosuppressive effects on the human hematopoietic system. Scientists from Neumedicines discovered the previously unexplored hematological properties of IL-12 by demonstrating the potent survival effects of single, low dose IL-12 on hematopoietic recovery following lethal radiation. HemaMax™ is a new therapeutic that can be administered in very low, nanogram doses to achieve potent hematopoietic effects. In animal tumor models, HemaMax™ has been shown to be effective in restoring hematopoiesis following either radiation or chemotherapy, while providing concomitant anti-tumor effects over and above the primary therapy. Clinical applications for HemaMax™, such as chemotherapy-induced thrombocytopenia (CIT), are being pursued in hematology and oncology. Another oncology therapeutic in preclinical development is HSS1, a novel secreted protein with anti-tumor effects in glioma.
# # #