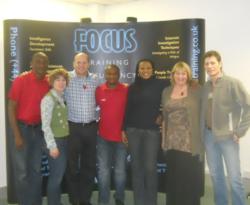 Having a full understanding of fraud enables us to respond with highly relevant solutions to address these challenges
(PRWEB) November 30, 2011
Following an intensive week's training, Hayley Daniels, Senior Business Development Consultant, and Louise Penson, Senior Marketing Executive, successfully completed the Certified Telecommunications Fraud Specialist (CTFS) course, provided by Focus Training, alongside delegates from MTN, Nigeria and SFR, France.
The course, which comprises four modules – Fraud identification, Profiling, Analysing and Assessing Fraud Risks – is designed to help develop the depth of knowledge and skill required to detect, investigate and effectively manage fraud.
Commercial Director of Neural Technologies, Luke Taylor, said: "Having a full understanding of fraud and the challenges faced by fraud departments enables us to respond with highly relevant fraud management solutions to address these challenges".
Neural Technologies officially endorses this industry recognised training programme in conjunction with Digicel, Meucci, Vodafone and MTN.
Said Director of Focus Training, Alan Blaney: "This unique qualification ensures that fraud staff are trained to the highest level to combat the ever changing fraud landscape".
About Focus Training & the CTFS course
Focus is a dedicated fraud training provider working across industries to prevent fraud and protect company assets. Establised in 1997, Focus works in over 100 countries, ensuring that international best practice is spread amongst its clients worldwide.
The Certified telecommunication Fraud Specialist (CTFS) Qualification was established in 2001 and is endorsed by leading companies within the GSM Fraud Forum. Over 250 telecommunication operators now have staff trained in this qualification.
More information: http://www.focustraining.co.uk
About Neural Technologies
Neural Technologies has established itself as a leading provider of risk management and business intelligence software solutions to the telecommunication and financial sectors.
The company's Minotaur suite empowers organisations to optimise revenue in the areas of fraud management, credit risk assessment, customer attrition/churn reduction, targeted marketing, collections optimisation, revenue assurance and anti-money laundering.
Neural Technologies has been ranked several times in the Sunday Times Tech Track 100 league table of the UK's top technology companies. It was named Large Technology Supplier of the Year 2008 by the British Computer Society and received an IT Europa European IT Excellence Award 2011 and a Global Telecoms Business Innovation Award 2011.
More information: http://www.neuralt.com
###