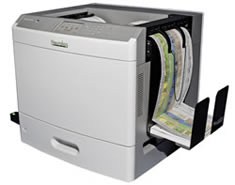 Houston, TX (PRWEB) August 13, 2013
The second generation high-speed NeuraLaserColor II well log printer is capable of printing 8.5-inch-wide well logs of any length at speeds of up to 11 inches per second. Utilizing the industry's most advanced color laser technology, the NeuraLaserColor II delivers brilliant colors and exceptionally sharp, high-resolution well logs at blazing speed. The NeuraLaserColor II supports a variety of industry standard well log file formats, including native support for Adobe PDF.
The NeuraLaserColor II uses a patented design that automatically aligns, feeds, and cuts consecutive well log prints, while the output is folded into the integrated stacker with minimal user attention. A 4.3-inch color touch screen with audible confirmation feedback makes operating the NeuraLaserColor II simple and intuitive. The operator panel is conveniently accessible through an embedded web server for remote configuration and monitoring of the printer. With front panel access to the toner cartridges, routine maintenance is simple. The extra-high-yield cartridges deliver up to 20,000 standard pages of printing, ensuring prolonged productivity and reduced downtime.
It's a breeze to print well logs on the NeuraLaserColor II from your existing Windows-based well log software, and Neuralog provides a copy of NeuraViewPE, which is designed specifically to view, edit, annotate, and print well logs and other large documents. With the new NeuraLaserColor II, you have a complete solution for maximizing the value of your well logs.
For more information on the NeuraLaserColor II printer, visit http://www.NeuraLaserColor2.com or call 1-281-240-2525.
About Neuralog
Neuralog has provided software and hardware for the oil and gas industry since 1991. There are thousands of companies using Neuralog products in over 70 countries worldwide.