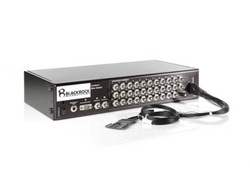 Cerebus Stim Switch and NeuroMotive offer neuroscience researchers access to critical information about brain function that was unattainable even a decade ago
Salt Lake City, Utah and Chicago, Illinois (PRWEB) October 16, 2009
Blackrock Microsystems LLC (Blackrock) today announced the launch of two new products with highly sophisticated technology to improve the monitoring and assessment of neural signals associated with brain electrical stimulation and behavior. The launch announcement was made at the 29th annual meeting of the Society for Neuroscience in Chicago, Illinois. The new products, Cerebus Stim Switch and NeuroMotive, are designed to assist researchers searching for new insights into brain communication that could have important applications in developing treatments for Parkinson's disease, epilepsy, addiction, sleep disorders and other neurological conditions.
The Cerebus Stim Switch significantly improves switching control for neural stimulation applications, an important capability in brain research. A single module enables programmatic switching among a maximum of 32 individual electrodes, while multiple modules can be combined to switch among a maximum of 256 electrodes. The enhanced switching capability enables researchers to make high-quality recordings of neural spikes and field potentials immediately after different forms of brain stimulation.
NeuroMotive provides real-time video recording, tracking and analysis of synchronized behavior and neurophysiology, allowing researchers to directly attribute subject behavior to specific brain activity. This integrated analytic capability is expected to play a critical role in behavior studies often associated with neurological research.
"Cerebus Stim Switch and NeuroMotive offer neuroscience researchers access to critical information about brain function that was unattainable even a decade ago," said Andrew Gotshalk, CEO of Blackrock Microsystems. "These technologies are clearly positioned to help uncover important new insights into brain function, neural stimulation and the epidemiology of neurological disorders, with a potentially profound impact on patient care in multiple neurological disease states in the years ahead."
"Blackrock's goal is to develop advanced technology products to help us understand and monitor brain and organ signaling and stimulation with greater accuracy and control," said Florian Solzbacher, Ph.D., president of Blackrock Microsystems and assistant professor and director of the Microsystems Laboratory at the University of Utah. "These advances enable us to identify opportunities for new therapies to meet patient needs with maximum precision. "Blackrock's two new products represent a major step forward in our ongoing efforts to apply advances in technology to improve patient care in neurology in the future."
Blackrock Microsystems will be demonstrating its two new products, Cerebus Stim Switch and NeuroMotive, along with other products in the company portfolio at Booth # 762 in the Exhibition Hall at the Annual Meeting of the Society for Neuroscience (SfN). SfN is a nonprofit organization of more than 38,000 member scientists and physicians from around the world who study the brain and nervous system. Hundreds of research studies involving Blackrock technologies will be presented in symposia and posters at this year's SfN. A schedule for select key presentations can be downloaded from Blackrock's website.
More information about these and other Blackrock Microsystems products, including fact sheets, is available at http://www.blackrockmicro.com.
About Blackrock Microsystems LLC
Blackrock Microsystems, a privately held company, is a leading global manufacturer of intelligent microsystems that aid neuroscience researchers and physicians in the development of improved medical solutions for the diagnosis and treatment of serious central nervous system diseases and conditions. Blackrock also produces a broad range of neural monitoring equipment to neuroscience researchers worldwide.
Contact Information:
Andrew Gotshalk
Blackrock Microsystems LLC
Phone: 801-582-5533 x275
Cell: 617-549-8316
Elizabeth Razee
Razee Corporate Communications
Cell: 508-468-5464
# # #