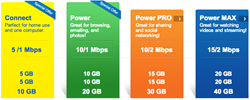 Satellite Internet.ws now offers Nevada residents the option to purchase a high speed Internet and unlimited phone calling service bundle saving 25% to 35% on their phone and Internet bill.
Carson City, Nevada (PRWEB) September 22, 2013
The latest revolution in Internet service, high-speed satellite Internet and unlimited phone service is now available to all homes in Nevada. Through Satellite Internet.ws (http://www.satelliteinternet.ws), your authorized satellite ISP experts, web surfers who want relief from slow-speed Internet service providers will welcome the alternative offered which provides high-speed connections that are faster than dial-up, DSL, and most services offered by cable providers.
Benefits of Nevada High Speed Satellite Internet:

Download Speeds up to 15 Mbps
Upload Speeds up to 2 Mbps
Faster Than DSL and Most Cable Providers
Available Almost Anywhere Where Cable and DSL Are Not
Unlimited Phone Calls throughout US and Canada
Does Not Need a Phone Landline
Low Monthly Rate
And much more...
The technology used by the Nevada Satellite Internet provider is advanced, providing users with an edge over outdated dialup, cable and DSL. Plus, there's a plan for every budget. "With the technology that's available now there's no reason not to choose a satellite service provider for your web browsing needs," says Ron Legarski, owner of an authorized satellite retailer. "You can have the fastest download speeds available no matter where you live."
With the Satellite Internet's premium Power MAX plan users can surf the World Wide Web with speeds as fast as 15Mbps, which is 500 times faster than old dial-up methods with a modem. The Power MAX speed is also three to five times faster than many DSL and cable Internet services. Satellite Internet is an especially smart choice for consumers who live in remote geographical areas throughout Nevada who want fast, reliable Internet service that's always available when they need it.
Satellite Internet has a variety of Nevada satellite Internet plans, including Voice & Larger Bandwidth, which gives them the fastest speed available from a wireless satellite Internet provider, plus telephone service. Other plans include the Power plan for basic browsing and email capabilities, plus the Power PRO plan, with 10 Mbps, which is perfect for keeping in touch with friends on social media sites. All plans include installation by a professional Satellite ISP technician, who will ensure that your system is installed to optimize your satellite broadband. The rural satellite Internet is the clear choice for today's fast-moving society and can even provide household savings with low monthly fees.
Nevada Satellite Internet service is now available in the following NV counties:
Carson City County, Churchill County, Clark County, Douglas County, Elko County, Esmeralda County, Eureka County, Humboldt County, Lander County, Lincoln County, Lyon County, Mineral County, Nye County, Pershing County, Storey County, Washoe County and White Pine County.
For more information on the coverage area for Satellite Internet, please visit: http://www.internetsatellitewireless.com/nevada
Satellite Internet is a Nevada satellite Internet provider, which provides Internet service for all kinds of users, but is a particularly smart choice for residents and companies in rural areas that lack options for high-speed connections. It offers an array of satellite Internet plans that provide the same reliable installation, service and competitive pricing, including a premium package with speeds of 15Mbps and a data download allowance of 40 GB.
For more information on satellite Internet and phone service providers, please call toll free and speak with a representative today at 1-877-247-5156 or by visiting: http://www.ruralsatellite.net.