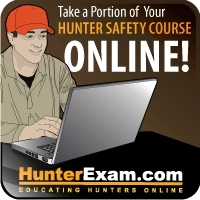 People in general are very Internet-savvy and expect a lot when they take an online course
Reno, NV (Vocus) September 8, 2010
All hunter education students in Nevada are required to complete a home-study component before attending NDOW's hunter education certification class. Students now have the option of completing their home study on HunterExam.com - a revolutionary online course that is unmatched in multimedia and student performance.
The one-of-a-kind online course features professionally narrated and illustrated content on every page, interactive animations and exercises, as well as visual exam questions. With a wide variety of multimedia material, the course is specifically engineered to target all the different learning styles, and has proven invaluable to students who experience learning disabilities.
"People in general are very Internet-savvy and expect a lot when they take an online course," says Kerry Moher, V.P. of Business Development with HunterExam.com, "The interactivity and narration in our online course are unmatched and vital to a well-rounded learning experience. Students score an average of 92% on our end of chapter quizzes, and do exceptionally well at the certification classes."
The 11-chapter online course contains professionally narrated course material, with over 60 interactive animations (powered by H-E Tools™) and exercises that cover topics ranging from firearm parts to conservation to three online shooting ranges where students can practice sighting-in and shot placement. A 10-question quiz is presented at the end of each chapter, where students must achieve a grade of 80% before advancing to the next chapter.
Once students have completed the online course, they must attend an instructor-led NDOW certification class. The classroom portion focuses on Nevada hunting regulations, hunter ethics and responsibility and hands-on exercises where instructors reinforce the rules of firearm and hunter safety. Students complete the certification process by taking the written final exam, administered by the instructor.
John McKay, Hunter Education Coordinator for the Nevada Department of Wildlife is enthusiastic about the new online option. "We commend HunterExam on the use of different teaching techniques in their courses. The internet-based study guide is fun, and should be a great tool for younger students, and any student who enjoys an interactive element."
The HunterExam course employs a "pay only when you pass" policy, where a one-time fee of $24.95 is paid directly to HunterExam once the student has completed all 11 chapter quizzes and wishes to attend a certification class. The Nevada HunterExam online hunter education course is available to anyone at any time as a free study guide. For more information please visit http://www.HunterExam.com/USA/Nevada.
###