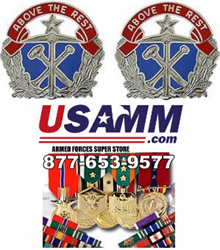 It's that time of the year. Dress inspections are coming up for Soldiers all over the country.
Milwaukie, OR (PRWEB) November 12, 2013
Local military uniform superstore, USA Military Medals, is now carrying Nevada National Guard distinctive unit insignia, here, today, aiming to better support the dress uniform needs of Soldiers there.
The insignia - including the U.S. Army Nevada National Guard Unit Crest (Above The Rest), U.S. Army 221st Cavalry Unit Crest (Never Broken), U.S. Army 421st Regiment Unit Crest (Sobre Todo), and the U.S. Army 422nd Signal Battalion Unit Crest (Battle Born), to name a few - are sold in pairs with steel pin backing and ship within hours.
"It's that time of the year. Dress inspections are coming up for Soldiers all over the country," said USAMM, LLC President of business operations, Jared Zabaldo.
USAMM owns and operates USA Military Medals along with various other e-commerce uniform stores.
"When you're down to the wire, many base exchanges have already been cleared out, and often won't have back stock," said Zabaldo, before adding, "After Nellis Air Force Base, there's only the Naval Exchange in Fallon, so we are constantly filling Nevada ribbon orders."
These Nevada unit insignia are available for purchase now on UMM. Service members may additionally find and purchase their military medals and ribbons through the online "Ez Rack Builder" program – a free uniform tool available to all veterans and active duty service personnel.
"The Nevada Guard is one of 54 members of the Guard," said Holden. "So it's important that we continue to make awards available to these men and women at a moment's notice…and we take a lot of pride in doing so."
About USA Military Medals:
USA Military Medals (http://www.usamilitarymedals.com/) is an Internet-based company formed in 2005, carrying more than 14,000 dress uniform products in stock and specializing in custom military medal and military ribbon rack production with their state-of-the-art rack builder . USA Military Medals also operates a brick and mortar store servicing local military personnel and veterans.