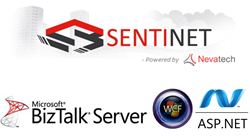 "The Microsoft Gold status is a great achievement and a strong endorsement of Nevatech technology and products", Andrew Slivker, CTO of Nevatech
Atlanta, Georgia (PRWEB) August 07, 2013
Nevatech, a unique and innovative provider of SOA Governance and API Management software, announced today that it has attained Gold Certification Partner status in the Microsoft Partner Program with recognized competency in the Application Development area. As a Gold Certified Partner, Nevatech has demonstrated the highest level of competence and expertise with Microsoft technologies and a proven ability to meet the unique needs of global enterprises.
"We are excited to be awarded with the Microsoft Gold Certified Partner status," says Andrew Slivker, CTO of Nevatech. "The Gold status is a great achievement and a strong endorsement of Nevatech technology and products. Our work and technology is Microsoft centric. We provide solutions and unique offerings especially designed for enterprises that use Microsoft SOA/API technologies with BizTalk Server, Windows Communication Foundation or Windows Azure."
"Microsoft Gold Certification provides Nevatech's customers with the comfort and business advantage of knowing that our products and solutions have met the highest standards set by Microsoft," says Slivker. "With a Microsoft certified partner you can be confident you're getting the knowledge, skills, and commitment you need to implement technology solutions that match your specific business situation."
Nevatech's Sentinet software platform is the only product in its space that is entirely built on the Microsoft technologies and supports any SOAP or REST stack. It is especially designed to take advantage of core Microsoft technologies -- .NET, Windows Communication Foundation (WCF), Windows Identity Foundation (WIF) and Windows Azure cloud platform -- so as to provide the management and application visibility that large enterprise systems require. For more information on the Sentinet service virtualization platform, its advanced SOA and API Management capabilities and a free assessment, visit http://www.nevatech.com.
About Sentinet
Nevatech Sentinet™ is a flexible, lightweight and scalable service virtualization platform with advanced SOA and API Management capabilities. Sentinet is designed to connect, mediate, secure and manage interactions between services across the enterprise or in the cloud.
About Nevatech
Nevatech, a Microsoft Gold Certified ISV Partner, is an innovative provider of SOA and API Management infrastructure and tools for integrated on-premises, cloud and hybrid environments. Fortune 1000 companies use Nevatech products to ensure their services and applications are connected, secured and monitored. The Nevatech Sentinet platform provides organizations and development teams with reliable, secure and agile SOA and API solutions.