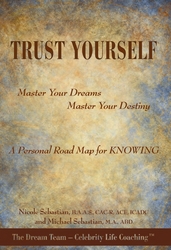 Trust Yourself literally saved my life. It taught me to trust my gut and take action!
Los Angeles, CA (PRWEB) March 7, 2011
Blindsided... Nowadays, it seems to be a common occurrence. Turn on the television or read the newspaper, one of the most universal complaints is "I was blindsided." Whether it's the stock market, employment arena, contract negotiations, media hype, relationships, infidelity, health, addiction, the housing market, the list goes on and on. Since the "Trust Yourself System" runs on auto-pilot, 24/7, it works on one's behalf to avoid such atrocities. It actually provides a snapshot beforehand so a course correction can be made. In cases where the course correction can't be made, it always prepares one (in a gentle way) for what's coming. The main point is this--- there is no reason to get blindsided ever again!
Each day we are inundated with a myriad of decisions to make. Which diet to go on? Which church to join? Which school to send the kids to? Is it time to relocate? Take an early retirement? Which stock to invest in? The "Trust Yourself System" provides a superior tool for discernment, coupled with a method to "confirm" the right choice. Even when a critical decision must be made with no time to spare, each decision can be quick, efficient and the best choice...bottom line.
Today, there is much doubt and wondering; it's in the news all the time. How does one Know for sure? Are the kids on drugs? Is he really the one? Does her online dating profile reflect the truth? Is he cheating? Is there a serious medical condition? Even unsolved crime cases and the like… The "Trust Yourself System" provides a method to program any question and receive an answer using a triangulation of methodology for confirmation each and every time...this results in finally "knowing" the truth.
The "Trust Yourself" book contains all the tools and techniques needed to activate and access the oracle within. With the "Trust Yourself System," there exists a personal road map for Knowing. A method for Avoiding Adversity and Never Getting Blindsided Again. The system not only provides 24/7 guidance, it runs on auto-pilot. It can be used for dating, love, finance, career, health, addiction, or simply any decision that needs to be made! It's free, mobile and readily accessible any time of the day or night.
Where are the answers to one's burning questions? Where does one go to find the solutions to problems? Nowhere! Surprisingly, one is already in a superior position to respond to the most demanding decisions, know the unknowable, and most importantly...never get blind-sided again!
The simple fact is this...all people dream, have gut hunches, and experience coincidence, regardless of their belief system, faith or lack thereof. And when this data is tracked and triangulated, the proof is evident…these experiences provide unparalleled guidance. They provide a personal road map for Knowing the direction and future.
What follows is a Methodology and a How To Handbook for Decoding the Ongoing and often Overlooked messages contained within Dreams, Signs, Intuition and Knowingness, so we can Side-Step Adversity and Master Destiny. This baby helps dodge traffic...Enjoy the Journey…Trust Yourself!
TRUST YOURSELF: Master Your Dreams, Master Your Destiny, A Personal Road Map for KNOWING
By Nicole and Michael Sebastian
March 2011 / $20.00 / Softcover / ISBN: 9781452061979
Available at any online or local bookstore.
-------------------------------------------------
Featured on A&E, E!, VH1, & countless others
Now married 15 years, Nic and Mike aka The Dream Team, met in a Dream 5 years before they met in a college classroom...
The Dream Team...Bridging Science and Spirituality
Co-Founders of "Divine Guidance Institute and Wellness Center Inc.," "The Dream Team – Celebrity Life Coaching" and Creators of the "Trust Yourself System" and "Trust Yourself Therapy,"
Delivering the Fastest Therapy, Most Reliable Decision-Making and Unparalleled of Way of "Knowing" All in One...So You Never Get Blindsided Again.
Visionaries, Nicole and Michael Sebastian, M.A., ABD aka "The Dream Team" are Celebrity Life Coaches, Expert Decision Coaches, Authors, Celebrity Dream Experts, Relationship Experts, Certified Fitness Trainer, Nutrition Counselor, Certified Addictions Counselor, DUI Specialist, Behavioral Sociologist and Ordained Ministers.
Known as Modern-Day Oracles, they deliver Wise-Counsel using Traditional Methods coupled with the Unique Tools of Dreams, Sound, Synchronicity, Intuition, and Quantum Physics for Guidance and Direction. This is what "Trust Yourself" is all about.
###