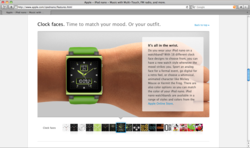 Retaining its same great design, the new Apple nano is fully compatible with all of iWatchz nano Watch Band Collections
(PRWEB) October 04, 2011
Today, Apple announced the new iPod nano will feature 16 new clock faces and showcased the new designs on their website using iWatchz iPod nano watch band Q Collection. From basic analog, to trendy, luxury clock faces, the nano now offers a watch style for every mood. As the first iPod nano watch band in Apple stores, iWatchz continues to keep their offerings fresh with stylish nano watch bands that are compatible with the new nano.
Phil Schiller, VP of Worldwide Product Marketing for Apple, claims the new iPod nano will be easier to use as a watch.
"Retaining its same great design, the new Apple nano is fully compatible with all of iWatchz iPod nano watch band Collections," said the iWatchz team. "For style-conscious music fans who live on the go, iWatchz remains the ultimate nano accessory no matter where life takes them."
On a mission to serve excellence, iWatchz is pleased to introduce the new iWatchz Tactic nano band Collection. Featuring soft leather straps fused with Cordura nylon, the iPod nano watch bands offer rugged style with a lightweight black textured aluminum iWatchz clip. Transform the iPod nano into a stylish watch with three simple steps: Press. Slide. Click!
Committed to keeping you and your new nano fresh-faced, another two iWatchz Collections will be announced in the coming weeks.
In celebration of the new iPod nano release, and Tactic Collection debut, iWatchz is hosting a special giveaway of limited edition Tactic Collection nano watch bands. Visit the iWatchz blog at http://bit.ly/TacticGiveaway for full details on how to enter, and win!
About iWatchz
Founded in September 2010, iWatchz developed and engineered their patent pending clip system, and stylish watch straps, for use with the Apple iPod nano®. Their passion is to design fashionable and functional products for the discerning consumer. For more information, please visit iWatchz.com.
Connect with iWatchz on Twitter at twitter.com/iWatchz and on Facebook at facebook.com/iWatchz.
###