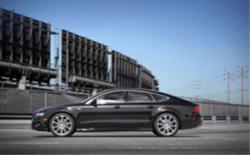 We have plenty of A7s in stock. We're proud to be the Bay Area's headquarters for Audi, particularly the A7s
San Jose, CA (PRWEB) December 31, 2011
East Bay New Audi Dealer, Audi Stevens Creek, one of the San Francisco Bay's premier auto dealers, has announced the arrival of the all-new 2012 Audi A7. The coupe was recently named the 2012 "Automobile of the Year" by Automobile Magazine.
"We have plenty of A7s in stock," said Tony Newell, General Manager of Audi Stevens Creek. "We're proud to be the Bay Area's headquarters for Audi, particularly the A7s. It being named the car of the year was certainly no surprise to any of us."
The East Bay's Audi Stevens Creek is the leading and highest volume new and pre-owned Audi dealer in the San Jose and San Francisco regions and serves as the most trusted Audi dealership throughout the entire Bay Area, including the East Bay and San Mateo. Audi Stevens Creek also ranks as the #1, highest volume Audi dealer throughout the United States.
The A7 is anchored by Audi's Quattro All-Wheel Drive and features a variety of state-of-the-art technologies and uniquely crafted interiors.
"One of the greatest features is the amazing navigation system," said Newell. "It is a single touch pad system, utilizing Google Earth imagery. The car can also function as a mobile Wi-Fi hot spot."
Other features of the Audi A7 include standard LED front access lighting, which was originally developed by Audi. Full LED active headlamps are also available.
"It's modern, luxurious, and comfortable, but it's important to note that it's one of the most efficient vehicles, as well, not only with the Audi line, but also across the board in the automotive industry," said Newell.
The car also boasts a 3.0 liter supercharged V6 engine, with 31-horse power and 325 ft.-lbs. of torque. This is just another reason that the Audi A7 is considered one of the highest performing luxury vehicles on the market.
Audi Stevens Creek is located at 3350 Stevens Creek Blvd. in San Jose. They can be reached at 408-471-6673 or online at http://www.audi-sanjose.com.
About Audi Stevens Creeks
Audi Stevens Creek features the largest selection of new Audis and pre-owned Audis in Northern California. Each certified pre-owned Audi goes through a rigorous, 300-point inspection to guarantee that the used Audi will live up to the interior and exterior quality that drivers come to expect from an Audi. It is the automotive industry's most meticulous inspection process for a pre-owned vehicle.
###