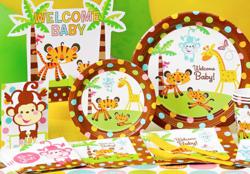 We make a point to actively seek out the newest products in our industry.
Enumclaw, WA (Vocus/PRWEB) March 22, 2011
PartyPail.com is pleased to introduce some new products to further expand their already large selection of baby shower and 1st birthday decorations. With one of the largest online selections of baby shower and birthday themes already, the company is always looking to branch out to more product lines, and these new jungle animal themed products are exciting additions to PartyPail's online selection.
Recently added product lines include the Sweet Treats 1st birthday cupcake theme and a Fisher Price jungle baby shower theme. Later this month, PartyPail expects to announce another cupcake themed 1st birthday pattern with variations geared towards both boys and girls.
"We make a point to actively seek out the newest products in our industry, and work hard to make them available to our customers as soon as possible," said company CEO, Edward Hechter. "With more than forty first birthday party themes and more than sixty baby shower themes, our goal is to make sure that we have a pattern or design for everybody."
In addition to new themes, PartyPail is introducing individual products to add to their already existing themes. Some of the new products include personalized favors to match the Wild Safari girls' theme and Wild Safari boys' theme, plus a few other popular baby shower themes as well. These mint tin, candy jar, hot cocoa and other favors can be personalized with the mom-to-be's name and the date of the shower, and the graphics match the tableware and decorations used during the shower. Nothing serves as a better memory of the event than a favor that conjures up the same images that were used, especially when your shower is centered on these bold jungle themed baby shower supplies.
In addition to new favors, PartyPail is introducing a variety of monkey baby shower decorations to match their Monkeyin' Around baby shower theme.
"We've carried the Wild Safari, Buzz BaBEE, and Monkeyin' Around themes under an exclusive arrangement with the manufacturer for some time, and now we're pleased to be one of the first companies to offer these new products as well!" says Laurie Nelson. "While you can certainly pull together a generic favor bag to send your guests home with, nothing says "put-together hostess" like having the favor bags that flawlessly match the theme of the shower. These matching favors don't simply serve as a sweet reminder of all the fun your guests had at the shower; they're also a way of saying "thank you" to your guests for sharing in such a special day."
The new favors and decorations and the new Fisher Price and Sweet Treats themes are already available at PartyPail.com.
About PartyPail:
PartyPail, Inc. is an online provider of children's birthday party, baby shower, Christening party, and other decorations and supplies. At PartyPail, we pride ourselves on having one of the largest selections birthday and shower supplies online. Located in beautiful Enumclaw, Washington, PartyPail ships to customers throughout the United States. The company's focus on family and community values, and a commitment to customer satisfaction are cornerstones of day-to-day operations.
# # #