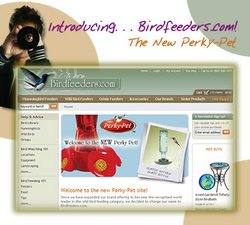 Lititz, PA (Vocus) October 28, 2008
The recently launched Birdfeeders.com web site, formerly under the PerkyPet.com URL is the new wild bird headquarters for all of your birding needs and questions. From birding tips and advice to an extensive offering of birdfeeders, bird baths and bird accessories – it's all there!
Bird enthusiasts as well as beginning bird hobbyists, can log on to the new Birdfeeders.com site from their computer for expert information on birdwatching, birdfeeding, and bird conservation. A comprehensive bird library, encompassing a variety of wild birds, hummingbirds and orioles, is now available online as well.
What type of birdfeeder is good for me? What is the best seed to use to fill my birdfeeder? Where do hummingbirds migrate? The answer to these questions and many more can be found at Birdfeeders.com, your #1 wild bird destination.
Birdfeeders.com is also the online home of four industry leading brands. Perky Pet™ brand birdfeeders focus on quality and high functionality. Birdscapes® brand represents eye-catching birdfeeders, reflecting the hottest trends in the market. Garden Song® is geared towards the beginning hobbyist, and Avant Garden® reflects designs inspired by both new trends and classic traditions from around the world.
Also, don't forget to check out the Birdfeeders.com eStore, which offers several features for a satisfying shopping experience. To put your mind at ease, all transactions are protected by Verisign®'s Secure Socket Layer (SSL) encryption technology - one of the most prevalent and secure systems available online. Also, the new site is tested daily to pass the McAffee® SECURE Security Scan. So log on Now!
For more information, please visit:

About Birdfeeders.com:
Birdfeeders.com is Perky Pet®, Birdscapes®, Garden Song®, and Avant Garden® - four strong brands recognized as world leaders in the wild bird feeding category! We offer the broadest and deepest selection of quality bird feeding products at competitive prices. Perky Pet®, Birdscapes®, Garden Song®, and Avant Garden® are registered trade marks of Woodstream Corp.
About Woodstream Corp:
Woodstream Corporation is a long-standing, privately held company and a leading manufacturer and marketer of quality-branded wild bird feeders, rodent control products, caring control products for pets and wildlife & natural solutions for lawn.
###