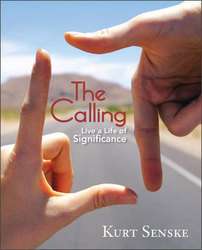 Other self-help books are designed to help us help ourselves to get what we want, and assume that attaining our goals is equivalent to having a life of significance
St. Louis, MO (Vocus) November 1, 2010
Americans seem to have an insatiable thirst for self-help advice. And though we spend billions of dollars each year on books, CDs, DVDs, seminars, coaching and stress-management programs meant to improve our well-being, many remain unhappy and unfulfilled with their daily lives.
Many people struggle with answering the questions, "What should success look like in my life? How do I discern God's plan? Why am I here and what should I be doing?"
In his new book, The Calling: Live a Life of Significance, from Concordia Publishing House, Kurt Senske offers a fresh perspective on living a fuller, happier life. The Calling presents a "Christ-help" solution that discourages the modern notion of looking for your "authentic self," encouraging instead the selfless act of focusing outwardly on service to others.
"Other self-help books are designed to help us help ourselves to get what we want, and assume that attaining our goals is equivalent to having a life of significance," says Dr. Senske, Chief Executive Officer of Lutheran Social Services of the South (LSSS) and the Chair of the Board of Directors of Thrivent Financial. "Even if we do achieve some level of success, we still come no closer to knowing whether we are living the life that God has created uniquely for us."
The Calling provides an eight-step roadmap with exercises designed to help discover the lives we are called to lead, integrating biblical wisdom with secular strategies. Through examples from his own journey to a lifetime of service, Dr. Senske redefines the concept of "success" and reveals how Christians can put their faith into action in ways that best serve their families, friends, profession, community and church.
"This journey to finding our calling is not for the faint of heart," Dr. Senske says. "Others may ridicule us for decisions that seem out of touch with the world's reality. Following this calling will on occasion bring us to our knees in exhaustion. But one day we will rest, knowing that we have made the most of our gifts in service to others."
To order your copy of the book, visit cph.org or call 1-800-325-3040. To schedule an interview or to receive a review copy of The Calling please contact Amy Currie at 512-478-2028 ext. 211 or acurrie(at)phenixpublicity(dot)com.
Dr. Senske serves on the Board of Directors of Lutheran Services in America, which has more than 300 member organizations and a combined budget of over $8 billion. He has been a commentator on television and radio as well as a guest columnist for newspapers and magazines across the nation. Dr. Senske currently resides in Austin, Texas, with his wife, Laurie, and daughter, Sydney. For more information, visit http://www.kurtsenske.com.
Resource Links:
Social Media Release: pitch.pe/98546
Concordia Publishing House: cph.org
Kurt Senske: kurtsenske.com/
The Calling: Live a Life of Significance: bit.ly/9B9t8o
Lutheran Social Services of the South: lsss.org/
Thrivent Financial for Lutherans: thrivent.com/
Lutheran Services in America: lutheranservices.org/
Concordia Publishing House is a not-for-profit publishing company and the publisher of The Lutheran Church—Missouri Synod. The company offers more than 8,000 products for use in Christian congregations, schools, and homes. Visit CPH on the Web at http://www.cph.org.
Media Resources:
View this or previous releases or download via Word or PDF on Scribd.
# # #