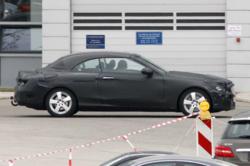 New Mercedes C Class Convertible release 2014
Stevenage, London (PRWEB UK) 7 May 2013
Just what is the cause of all of this discussion and rumour? Perhaps it is the fact that it has been discovered that this new Mercedes C-Class Cabriolet will be the most affordable Mercedes convertible ever made. Perhaps it is because of the efforts of Mercedes to dramatically alter the look and feel of their legendary vehicles to attract a younger market. Perhaps it is because this much anticipated vehicle is one of the flagship vehicles for this new generation of Mercedes automobiles.
So what should we expect in this C-Class convertible? The answer is technology…lots of technology. Mercedes is promoting its automotive technology as intuitive and easy to comprehend. The legendary engineering and design that has constructed the Mercedes name has been focused on creating a suite of technology that drivers can, and will, use.
The new Cabriolet will also take advantage of Mercedes' commitment to lightweight technology as well. This use of stronger, lightweight materials along with an extensive choice of powertrain options will be a focal point of making these new Mercedes stand apart. It takes these vehicles into a level of fuel efficiency not previously available.
The new Mercedes C-Class Cabriolet will use Mercedes' new rear-wheel drive architecture, and purchasers will be able to choose from 4, 6 and even 8 cylinder engine options. This provides some amazing power alternatives.
Flowing lines and an unusually rear deck area are just part of the anticipated design treatments. It would be expected that the Mercedes C-Class Cabriolet would feature frameless windows and take a step forward in the aggressive design changes recently apparent in the brand's line.
For those interested in learning more about the new Mercedes C-Class Cabriolet, contact the Hertfordshire Mercedes-Benz retailers at Stevenage, Bishops Stortford and Hertford.
END
Author: David Newman from Mercedes-Benz Hertfordshire
About Mercedes-Benz Hertfordshire - L & L Automotive
L&L Automotive is the driving force behind a dynamic retail network aimed at enhancing sales and after sales services for the region's existing and prospective Mercedes-Benz, AMG and smart customers.
Encompassing retail outlets in Bishop's Stortford, Hertford and Stevenage, the group is operated by L&L Automotive – a company boasting a lengthy and successful history.
L&L's Mercedes-Benz businesses moved into Hertfordshire in July 2002, when it was selected as one of Daimler UK's key business partners in establishing a revitalised national retail structure.
L&L Automotive. is a company registered in England and Wales with company number 4415393
VAT No. 794 6047 92
Mercedes-Benz of Stevenage : +44(0)1438 737800
Mercedes-Benz of Bishops Stortford : +44(0)1279 719333
Mercedes-Benz of Hertford : +44(0)1992 514444