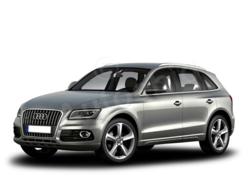 Get even more value for money
(PRWEB UK) 14 May 2013
The service – called Fuel Price – becomes available this month as part of the 'Mobile Phone Preparation – High with Audi connect' option. Although only buyers of the new A3 and A3 Sportback models will be able to spec the service at first, the R8 and TT will be compatible later this year, and eventually the entire range.
Using the car's location, the system searches an online database in real time, taking the type of fuel into account, before showing the driver a list of petrol stations in order of either price or distance. Once a station is selected, the car's satellite navigation software takes over.
Audi connect is only available in combination with the Satellite Navigation Plus option, and the two are offered in the A3 as part of the Technology Pack High with Audi connect. It costs £1,795.
Audi certainly aren't the first to implement this kind of technology in their cars – both BMW and Toyota have already offered a similar service – but for buyers for whom only an Audi will do, it offers another reason to commit.
Audi's A3 is arguably the sharpest looking hatchback that money can buy at the moment, with hard lines and a stance that reeks of build quality. AutoeBid's reverse auction process, where UK Audi dealers will compete to offer buyers the best new car deal, means that it's possible to save thousands of pounds off the price of Volkswagen Group's flagship hatch. Below are some of AutoeBid's current new car deals.
Audi A3 Sportback 1.8 TFSI RRP £27,180 AutoeBid £25,628 Saving £1,552
Audi A3 Hatchback 2.0 TDI S RRP £26,360 AutoeBid £24,599 Saving £1,761
Audi A3 Hatchback 1.8 TFSI RRP £24,410 AutoeBid £22,546 Saving £1,864