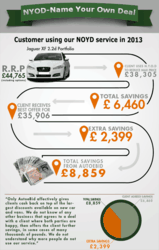 Make the largest possible saving and possibly get money back on any new car, only with AutoeBid
(PRWEB UK) 23 April 2013
With the most competitive new car deals available through the AutoeBid website, here's how new car buyers can save thousands of pounds off the price of their next car, too.
Save Once
AutoeBid's 'Maximum Price' is always below the manufacturers' RRP, often considerably so. This means that AutoeBid can offer the best new car deals before the reverse auction process even begins. Once an order is placed, however, buyers are agreeing to purchase the vehicle at this 'Maximum Price'.
In the case of a XF-buying client, the AutoeBid 'Maximum Price' was £38,305. This meant an initial saving of £6,460, or 14% of the car's original RRP of £44,765.
Save Twice
A potential second saving comes after AutoeBid pass the client's order on to the 1,600+ vetted dealers on its large database. They compete to underbid each other and win the client's order. Frequently, the winning bid in this reverse auction is significantly lower than the original 'Maximum Price' that the client was originally prepared to pay.
After the client's XF order was sent to competing dealers, the winning bid was £35,906--£2,399 under the original 'Maximum Price'.
Total Saving
Overall, the client saved £8,859 off the RRP of the XF, initially saving £6,640 with AutoeBid's 'Maximum Price' and later saving a further £2,399 after the reverse auction was completed.
With AutoeBid, buyers don't compromise the spec of their chosen vehicle, as the 'Maximum Price' is calculated to incorporate chosen optional extras. It's extremely unlikely that buyers will find the same specification car for less than AutoeBid's 'Maximum Price', but in these rare cases the system will amend their 'Maximum Price' to £100 less than the competing deal, subject to checks.
View some of the best new car deals available in the market.