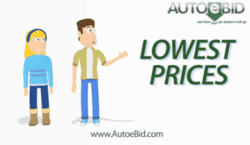 Invest in Award winning new car buying service.
(PRWEB UK) 8 February 2013
AutoeBid has over 30% of the UK new car market signed up-to its system providing thousands of consumer's access to the best new car deals, and peace of mind.
The market leader in on-line reverse auctions, AutoeBid already has an outside investor and is now seeking investment from investors with a passion for new cars who share our vision for growth.
The growth plans for the business are impressive and the service aims to expand outside of the automotive market in the medium to long term.
Many new developments are in the pipeline; AutoeBid has a key new partnership about to go live that will enable the business to access millions of UK car owners. The business is also testing its service off-line in a shopping centre environment later this year.
AutoeBid Managing Director Amin Saleem stated, "2013 will be a very exciting time for us as we have spent the last few years gearing up to launch our phase 2 version of our website and we are confident the business can now grow rapidly over the next few years."