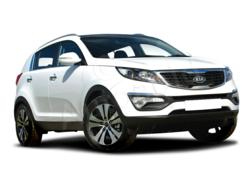 Some great new car deals on 4x4's this April 2013
(PRWEB UK) 1 April 2013
Kia Sportage – Save £3,237
Kia may not be the most glamorous new car brand, but after a comprehensive design overhaul the company's cars now have a face to match their reliable and efficient mechanicals. Interior plastics may not match the high standards set by some European rivals, but it's hard to ignore that the Sportage offers a huge amount of car for not very much money.
Standard equipment levels are very high, with alloys wheels and Kia's seven-year warranty as standard. The greatest new car deals are available on the top of the range 2.0 CRDi KX-4.
Hyundai Santa Fe – Save £2,833
2013 also finds Kia's parent company, Hyundai, in rude health. The latest Santa Fe is considerably more expensive than its predecessor, but even entry-level models come with alloy wheels, daytime running lights, Bluetooth and reverse parking sensors as standard. Costs are further kept in check with an average fuel economy of 46.3mpg for the four wheel-drive 2.2 CRDi model – impressive for a car with seven seats.
A strong 194bhp engine, high fuel economy and a five-year warranty make the Santa Fe a safe and now good-looking package, particularly with great new car deals saving thousands of pounds off the MSRP.
Mazda CX-5 – Save £1,804
Chiseled looks, an engaging but efficient drivetrain, and refinement that belies its modest position in the market make the CX-5 one of our favourite cars in any category. You'll probably want to spec a diesel model and the lineup is simple – the 2.2-litre engine is tuned to either 150PS or 175PS and is available in either two or four wheel-drive. Given its combined fuel economy of well over 50mpg, however, it's hard to look past the 2.2D 150PS.
Mazda's SkyActiv technology makes the CX-5 one of the most appealing 4x4s in its class. Perhaps most importantly the CX-5 just feels extremely competent with great new car deals.
Land Rover Freelander 2 – Save £3,069
It's easy to see the Freelander 2 as a more mature Evoque, and the junior Land Rover experience has been duly updated for 2013. A revised dashboard and exterior styling tweaks bring it up to date, whilst the engine lineup consists of same powerplants that were reworked back in 2011. The range starts at £23,700 for the cleanest eD4 engine, but options can easily take the Freelander 2 past £30,000.
The Freelander isn't as economical to buy or own as many of its esteemed rivals, but genuine off-road performance derived from larger Land Rovers means that it deserves the '4x4' moniker more than most.
Skoda Yeti – Save £3,255
You may wonder what the Yeti is doing in this company, but bombproof reliability, respectable off-road ability from its heightened ride, and economical diesel engines make the plucky family car a serious contender in the ultra-competitive 4×4 SUV category. It also comes with a large boot and is surprisingly engaing to drive. There's something rather charming about how understated the Yeti is, too.
Although the range starts at just over £15,000, the entry-level model with four-wheel drive is the 2.0 TDI CR 4×4, which starts at £20,385 and manages 46.3mpg combined with carbon dioxide emissions of 159g/km.