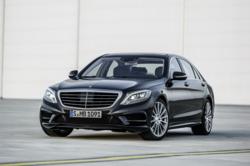 Huge discounts on the new 2014 Mercedes S-Class
(PRWEB UK) 20 May 2013
UK prices are yet to be confirmed, but in Europe the S-Class range starts at €79,789.50 for the S 350 BlueTEC and top out at €107,635.50 for the long wheelbase S 500. UK prices are estimated to start at around £68,000. When the new S-Class does go on sale in the UK, AutoeBid will offer buyers the best new car deals available, whether it's the S 350 HYBRID of V8 S 500.
Headline fuel economy figures come courtesy of the S 300 BlueTEC HYBRID model, which returns 64.2 mpg despite developing 204bhp and kerb weight of 1945 kg. The S 500 petrol and S 350 BlueTEC diesel models, both of which will be available in short or long wheelbase form, will join this Hybrid S-Class when they go on sale in September this year.
Unsurprisingly, interior noise reduction and overall refinement have been a top priority for Mercedes, who have upgraded door and window seals as well as using sound deadening materials, such as damping foil on the floor pan, extensively.
Mercedes chief designer Gorden Wagener describes the new S-Class as "classic architecture" with a "flowing silhouette", adding that the design "draws a line from the sophisticated, progressive design idiom to the classic elegance of our 1930s cars." The new car is also 21 mm longer, 29 mm wider and 11 mm higher than its predecessor and features reclining rear seats. The new body is made entirely from aluminium.
Inside, the new S-Class boasts an impressive instrument binnacle made up of two 12.3-inch TFT screens with ambient lighting to give the instruments a freestanding appearance. Overall space is slightly more generous than the previous car, too.
As mentioned, the new S-Class isn't available in the UK until later this year. In the meantime buyers can get the best new car deals using AutoeBid's unique reverse auction process, saving over ten thousand pounds on average off the RRP of the present, W221-series car, as shown below.
S500L BlueEFFICIENCY RRP £83,335 AutoeBid £71,541 Saving £11,794
S350L BlueEFFICIENCY AMG RRP £72,880 AutoeBid £62,570 Saving £10,310
S600L Bi-Turbo RRP £115,500 AutoeBid £99,142 Saving £16,358
S350L CDi BlueTEC AMG RRP £71,180 AutoeBid £61,086 Saving £10,094