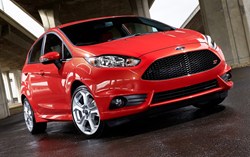 there were 143,643 new cars registered last month which was an 11.5% increase on comparable sales in 2012
(PRWEB UK) 13 February 2013
According to figures published by the SMMT, there were 143,643 new cars registered last month which was an 11.5% increase on comparable sales in 2012. This news means that the new car market has enjoyed its 11th successive month of growth, and 3rd month of double digit growth in the last four months, leading the SMMT to revise its full year forecast upwards for 2013.
A large proportion of the boost in sales was attributed to a 15.9% rise in private sales in January. According to the SMMT, the focus for private customers was on smaller cars and fuel efficient models. This was backed up by the report which showed alternatively fuelled car sales rising 7.9% and the best-selling cars in January were the Ford Fiesta closely followed by the Ford Focus and Vauxhall Astra.
The growth in the new car market is an indication that consumer confidence is increasing, although it is still a very tough market for vehicle manufacturers. Purchases may have been boosted by enticing offers such as twelve months free and free breakdown cover. Furthermore, the SMMT has said that advances in fuel efficiency which are attractive to both environmentally minded and cost conscious UK drivers could be another factor for growth.
Andrew Goulborn, Commercial Director at car insurance comparison site Tiger.co.uk commented: "This is encouraging news as growth in the new car sales market is often a good indicator of consumer confidence. The economic outlook in the UK still remains challenging however and motorists in particular have been feeling the pinch. As evidenced in our monthly car insurance price monitor, Tiger Watch, car insurance rates have fallen by about 2.1% compared to those recorded by Tiger.co.uk a year ago but drivers are also having to deal with price increases in petrol and diesel which is likely to be driving the interest in more fuel efficient models. We are hopeful that this upward trend in sales continues and that more fuel efficient technologies continue to be developed by motor manufacturers".
About http://www.tiger.co.uk
Tiger.co.uk is a trading name of Call Connection Ltd. Tiger.co.uk is a UK based, independent motor insurance comparison site, offering insurance quotes from over 150 insurance brands. Call Connection Ltd is authorised and regulated by the Financial Services Authority (number 308374).
Attribution: http://www.smmt.co.uk/2013/02/positive-start-for-2013-new-car-market-with-january-registrations-up-11-5/