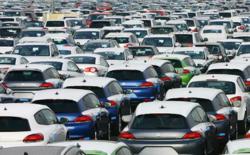 Beat the waiting list!
(PRWEB UK) 23 January 2013
With the average new car or new van averaging 3 months to order and some prestige cars taking 6 to 12 months, it's not surprising more and more clients are choosing to place an order with AutoeBid in order to obtain the quickest new cars for sale.
Many car manufacturers now limit the amount of vehicles that each dealer is allocated per month with many being built to order, reducing costs and helping to protect the resale value of new cars for sale. In practise this means new car are sold on a first come, first served basis. This applies especially to new models about to launch where the manufacturer is not only keen to prevent discounting but to rightly protect the residual value of the vehicle.
As each new car dealer will have around 30 new vehicles on order the only way to try to beat the waiting list is to call each and every independent dealer group and ask them to confirm their own availability. Alternatively using AutoeBid clients can obtain the best offers on availability and price in one easy stroke.
When it comes to placing your name on the waiting list for a new model, its likely most suppliers will not only offer you a long delivery time but some supplier have even been charging premiums of up-to £10K on some models such as the new Range Rover.
Amin Saleem, CEO of AutoeBid.com stated "Instead of placing your name on a waiting list, you can place your order on our website and not only be offered an allocation quicker on a model about to launch but in many cases you are likely to also get a huge discount. There are many brokers who simply place an order with a dealer on a speculative basis hoping to be able to sell that build slot to another buyer for a huge premium".