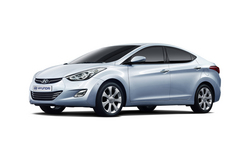 This is the future, arriving now. Expect to see this approach across Hyundai models in coming years.
(PRWEB) July 28, 2010
Here's a hint of the future, from Hyundai.
Hyundai New Zealand says the striking interior design concept of an all-new compact sedan just released in Korea points to the award-winning brand's future look.
Hyundai labels the design concept 'Wind Craft', a dynamic and futuristic direction aimed directly at a youthful generation. First up, it's seen in the new model codenamed MD.
"Wind Craft highlights the depth and potential of Hyundai's new design language," explains Tom Ruddenklau, Chief Operating Officer of Hyundai New Zealand.
"This is the future, arriving now. Expect to see this approach across Hyundai models in coming years."
The interior of the all-new MD is as striking as it is stylish, with a bold silver garnish originating at the crash pad and flowing to the console in a sculptured airstream-like contour. The combination high-gloss black and metallic finishes adds a futuristic and high-tech aesthetic to the interior.
Dynamic and refined elements include a four-spoke steering wheel with fingertip control of audio and cruise control systems and a VFD (Vacuum Florescent Display) instrument cluster with two-cylinder design displaying key information with crystal clarity and minimal eye stress, illuminated in Hyundai's signature blue hue.
Previewed at the 2010 Busan International Motor Show, MD represents the latest incarnation of Hyundai's signature 'Fluidic Sculpture' philosophy, and showcases the innovative GGDI (Gamma Gasoline Direct Injection) engine.
Sporty with elegant lines, MD will deliver class-leading fuel efficiency and eco credentials.
It is expected in New Zealand in 2011.
ABOUT HYUNDAI NEW ZEALAND
Currently Hyundai is the number one selling diesel passenger vehicle manufacturer in New Zealand, holds 8.75% in passenger market share, and 7.12% total market share YTD 2010, was 2nd in passenger sales and 4th in total sales in June 2010, is number two in SUV sales YTD 2010 and has numerous new locations among its 23 dealerships. The brand has been imported into New Zealand for the past 28 years.
Established in 1967, Hyundai Motor Co. has grown into the Hyundai-Kia Automotive Group which was ranked as the world's fifth largest automaker in 2009 and includes over two dozen auto-related subsidiaries and affiliates.
Hyundai is a committed sponsor of sports and cultural organisations in New Zealand and worldwide. See http://www.hyundai.co.nz.
# # #