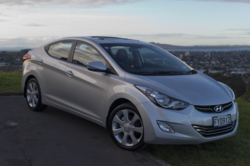 The compact sedan blew away all our targets.
Auckland, NZ (PRWEB) June 28, 2011
When Hyundai New Zealand launched its all-new Elantra last week, it expected strong interest and sales. But the compact sedan "blew away all our targets" when it was shown for the first time to the general public and New Zealand media at Fieldays.
Hyundai New Zealand's Chief Operating Officer, Tom Ruddenklau, says the reaction from visitors to the sedan car at the Hyundai showcase marquee was everything the company expected and more, with strong interest turning into car sales and demand that were much higher than anticipated.
Currently Hyundai's best-selling product globally, the Elantra is the number one selling compact car in Canada. The car has already won a range of awards, including the 2011 AutoPacific Vehicle Satisfaction Awards in the "Compact Car" class.
"This award measures how satisfied an owner is with their vehicle, based on responses from over 68,000 new vehicle owners. In the US these awards are an industry benchmark for objectively measuring how satisfied an owner is with their new vehicle."
The Elantra has a sleek, aerodynamic look, a striking and stylish black and chrome interior, and extensive safety features. It is economical on fuel – averaging 7.1 litres per 100 kilometres, and comes with special additional touches such as Bluetooth, Electric Power Steering, Auto defog* option, front seat warmers* and the standard Hyundai safety kit which consists of a Fire extinguisher, First Aid Kit and a reflective safety vest.
"Judging by the feedback from customers who bought an Elantra at Fieldays, it is hitting the mark in terms of style, price, fuel economy and safety. We think it is in a great position to become the best-selling compact sedan in New Zealand."
The new Elantra compact, sedan car will be in Hyundai showrooms around the country from this week.
New Zealand National Agricultural Fieldays is the largest agribusiness exhibition in the Southern Hemisphere. The current exhibition and demonstration space is over 40 hectares and boasts over 1,000 exhibitors on 1400 sites. National Fieldays is held over four days each June, and attracted over 117,000 visitors in June 2011.
Currently Hyundai is the number one selling diesel passenger, new cars manufacturer in New Zealand, holds 9.5% in passenger market share, and 8.0% total market share YTD 2011, was 2nd in passenger sales and 5th in total sales in the month of May 2011, and has numerous new locations among its 23 dealerships. The brand has been imported into New Zealand for the past 29 years.
Established in 1967, Hyundai Motor Co. has grown into the Hyundai-Kia Automotive Group which was ranked as the world's fifth largest automaker in 2010 and includes over two dozen auto-related subsidiaries and affiliates.
###