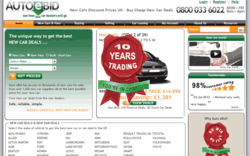 10 years of on-line new car retailing milestone achieved.
(PRWEB UK) 8 January 2013
New car and new van buyers have saved a fortune using AutoeBid when buying new cars and new vans over the last 10 years. The service is now into its 10th year of trading and in those years it has taken orders for many thousands of new cars.
The service has always focused on excellent customer service with a customer satisfaction rate of 98%, this is far higher than the industry standard and given the discounts generated are by far the best in the market the service has been able to offer he discounts and high levels of customer service.
A recent customer who purchased a new Audi Q7 stated "A bit sceptical at first especially as it was such a large purchase however now I have done it I would not buy a car any other way. I saved £8,000 off what the dealer could offer direct and the process has been seamless. The car was delivered to a main dealer within a reasonable distance of my home address and the whole experience was as if I had purchased the car direct from the dealer."
A previous customer who purchase a new Aston Martin DB9 Volante convertible managed to save over £7,000 more than he agreed to, that was enough to buy his son a second car with the additional saving made.
Managing Director Amin Saleem stated, "We are very proud of what we have achieved over the years and have so many happy customers some who have already purchased their 4th new car from us. Most of our sales are now achieved by our brand name on-line and that is a real testament to our success.
We do however wonder why more people do not use the service as it's by far the best way to buy a new car in the market.