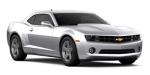 Chevy stopped the production of Camaro in 2003 but it came back in 2010
Fairfield, CA (PRWEB) November 18, 2011
The Chevy Camaro is a muscle car that's been a symbol of speed and power for decades. Fairfield Chevrolet will be rolling out the newest model of Camaro next year.
"Chevy stopped the production of Camaro in 2003 but it came back in 2010," says General Manager Winston Harrell of the company. "When Chevy Camaro came back in 2010 it became the most talked car on the planet, it was featured in the series of Transformer movies and even beat the Mustang in overall sales in 2010."
The new Chevy Camaro will benefit from Chevrolet's newfound interest in chassis refinement and its desire to make the car fast in a turn as well as in a straightaway. General Motors' latest version of Magnetic Ride Control, with 1,000 damping adjustments every second, is standard. Performance Traction Management – designed for both the race course and the drag strip – also comes standard.
The engine is a specially tuned version of the 6.2-liter supercharged LSA small block V-8. The supercharger intercooler is of a higher efficiency. Transmission options are a six-speed automatic with manumatic control and aTremec six-speed manual. The ZL1 is the first Camaro to offer electric power assisted steering.
Fairfield Chevrolet is located at 2501 Martin Road in Fairfield, CA and can be reached at 707-416-4379. For more information about their products, visit http://www.chevs.com, http://www.newandusedcarsmarin.com and their Facebook fan page.
About Fairfield Chevrolet
Fairfield Chevrolet is a local Chevy dealership serving Fairfield, Vacaville, Vallejo,Suisun City and all of Solano County. The dealership has a wide range of vehicles to offer clients including new and used Chevys, new Subarus, used Subarus and Isuza trucks. They are also capable of providing Chevy auto repairs.
###