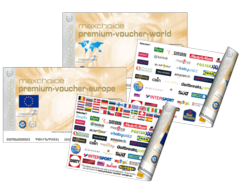 Wellesley, MA (PRWEB) May 03, 2012
GiftCard Partners, Inc. (GCP) continues to transform the gift card segment of the incentive industry with the signing of their newest client, maxchoice, a leading international provider of employee and customer reward and recognition programs. With maxchoice, GCP now offers vouchers, the convenient and simple way for their bulk gift card customers to reward international employees, partners and travelers, as well as loyalty program participants.
maxchoice's premium international voucher is redeemable at more than 550 top retailers throughout Europe and leisure and service providers throughout Europe, Asia and Australia. Their retailers and merchants include IKEA, Marriot, Debenhams, Amazon, and hundreds more. "Adding maxchoice to our growing list of clients offers our customers the unique diversity they demand to keep their employee incentive and rewards programs, customer loyalty programs, and sales promotions fresh and interesting," says Deb Merkin, GCP's COO.
This announcement comes on the heels of GCP's recent continental growth and expansion to Canada for their loyalty, end-customer, and fundraising channel offerings. "Several of GCP's clients have a strong Canadian presence, which well aligns GCP to service those customers with their incentive needs, like The Children's Place and Subway® gift cards," says Edward Shulkin, GCP's President.
GCP also has plans to acquire more top brand clients this year, which will further enhance their Canadian and international operations.
About GiftCard Partners
GiftCard Partners, Inc. is one of the nation's largest developers of corporate gift card programs; dedicated to growing their clients' B2B gift card business through innovative approaches in the incentive, loyalty, promotion, fundraising (Scrip), and affinity markets.
GiftCard Partners works with a broad range of leading brand companies as an out-sourced program management solution. Their client's gift cards are placed in workplace safety programs, health and wellness programs, employee recognition, motivation and sales incentive programs, and customer rewards and loyalty programs. Some of their clients include CVS/pharmacy®, The Children's Place, The Limited, AutoZone®, Nutrisystem®, SUBWAY®, Charming Shoppes (Lane Bryant®, Fashion Bug®, and Catherines®) , 1-800-Flowers, Boston Market, and more.