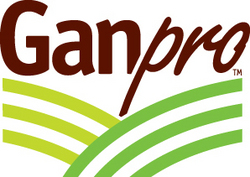 Ganpro's versatility and ease-of-use make it the perfect partner to meet the challenges of today's livestock farmers. We're already hearing from farmers that they are seeing real results." - Matt Schrage, Business Development Manager at Ganeden Biotech
Cleveland, OH (PRWEB) April 19, 2011
As feed prices top $7 per bushel, Ganpro direct fed microbials (DFMs) provide poultry, swine, dairy and cattle producers a much needed option for lowering feed expenses while increasing feed efficiency and livestock weight gain. Manufactured by Ganeden Biotech, one of United States' leading probiotic manufacturers, Ganpro is all-natural, appropriate for livestock of all ages and is easy to implement across a wide range of diets and feeding situations. In recent trials, Ganpro has shown to improve feed conversion when compared to traditional diets.
"With today's feed prices reaching all time highs, livestock producers need options for controlling feed related expenses while improving health and performance," explained Matt Schrage, Business Development Manager for Ganeden Biotech's livestock and companion division. "Ganpro is positioned perfectly to meet this challenge. We're already hearing from farmers using Ganpro that they are seeing real results in their livestock."
Ganpro is a direct fed microbial, or probiotic, specifically engineered for the agricultural industry. Trials have shown Ganpro to increase feed conversion of poultry and swine by up to five percent while still supporting performance, digestion and appetite. With today's corn prices at $7 per bushel, Ganpro could save producers between $2.50 to $7.50 per ton. These numbers begin to add up quickly considering feed cost is one of the biggest expenses for livestock producers.
Poultry producers using Ganpro have reported improved feed efficiency, feed intake and weight gain in addition to improved overall flock health. Unlike other feed additives, which are difficult to mix and add, Ganpro requires no special storage or refrigeration, can be easily pelleted and is stable for up to two years. Plus, Ganpro will not react with other ingredients and can be delivered via feed or water metering systems.
The secret behind Ganpro's success is the patented probiotic strain, Bacillus coagulans, which was selected for its versatility of use, capacity to survive stomach acids and ability to help increase immune response and maintain gut microflora. Inside each cell of Bacillus coagulans is a spore, which is similar to a seed. This spore serves as protection against the strong acids in the stomach ensuring that the spore arrives alive and then thrives in the intestines. Many traditional direct fed microbials contain strains of probiotics that are unable to form this protective layer, making them more vulnerable.
Ganpro has been accepted for use by the U.S. FDA Center for Veterinary Medicine and approved by the Association of American Feed Control Officials (AAFCO). Ganpro has not had a single report of adverse effects, is nonpathogenic, nontoxicogenic and produces no antibiotics. Like any DFM or feed supplement, results will vary depending on individual species.
As one of the few DFMs manufactured in the United States, Ganpro samples and trial and study results are available upon request. For additional information, call 440-229-5200 or visit ganprodfm.com.
About Ganeden Biotech
Founded in 1997, Ganeden Biotech is a privately held company based in Cleveland, Ohio, and is the largest seller of over-the-counter probiotics in the United States through its Digestive Advantage and Sustenex brands. In 2009, Ganeden Biotech launched its first animal feed product branded as Ganpro, developed specifically to meet the needs of cattle, poultry and swine producers. For more information about Ganpro visit http://www.ganprodfm.com.
###