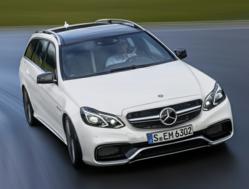 New Mercedes E-63 AMG.
Stevenage, Hertfordshire, London, UK (PRWEB UK) 19 February 2013
The vehicle offers the exclusive 4MATIC all-wheel-drive as well as a uniquely powerful S-Model, which features a torque rating of 800 Newton metres and an impressive 430-kW output. The 4MATIC all-wheel-drive enhances performance parameters on the new E63 AMG. The overall characteristics of the Mercedes-AMG lineup include high-performance, dynamism, efficiency, and power.
View-able in the new E63 AMG images includes five model variations. The E63 AMG, E63 AMG with 4MATIC all-wheel-drive, and the E63 AMG S with 4MATIC comprise the three saloons. The two estate variants are the E63 AMG with 4MATIC, plus the E63 AMG S with 4MATIC. Between April and June of 2013, all model variations will be launched.
A unique feature of the new E-Class is its optional surround-sound system from noted Danish specialist Bang & Olufsen. The sound system delivers the highest-quality audio experience conceivable. The audio component, Bang & Olufsen BeoSound AMG, is unmatched in quality.
Each of the five models within the new E-Class is capable of reaching a top speed of 250 km/h. The base model E63 AMG Saloon accelerates from 0 to 100 km/h in just 4.2 seconds, while the E63 AMG with 4MATIC and the E63 AMG S models are able to do so in approximately 3.7 seconds. All model variants are rated between 230 and 246 g/km for CO2 emissions. As well, the fuel consumption range for the cars is between 9.8 and 10.3 litres/100km.
The market for used e class mercedes is substantial, with many dealers offering new, pre-owned and used E-Class Mercedes cars in all price ranges. The newest launch of the E63 AMG models will allow consumers a wider choice when it comes to powerful, exclusive vehicles. In the future, there will be other AMG vehicles offered for sale as high-performance S-Models. The E63 AMG lineup offers buyers a significant boost in value, featuring better driving dynamics, higher performance and more appointments. The launch offers a wider array of standard equipment for a modest increase in price.
The 4MATIC and S-Model variants are available in either estate or saloon versions. Considering the power and performance of the E63 AMG models, the family of cars has a significantly low level of fuel consumption and emissions. Buyers of all E63 models will welcome the low emissions profiles, especially in light of the tougher Euro 6 standards which will become effective in 2015. All models of E63 AMG meet or exceed the requirements of that standard. Every car in the new E63 AMG series offers power, performance, and environmental responsibility.
END
Author: David Newman from Mercedes Stevenage
About Mercedes-Benz Hertfordshire - L & L Automotive
L&L Automotive is the driving force behind a dynamic retail network aimed at enhancing sales and after sales services for the region's existing and prospective Mercedes-Benz, AMG and smart customers.
Encompassing retail outlets in Bishop's Stortford, Hertford and Stevenage, the group is operated by L&L Automotive – a company boasting a lengthy and successful history.
L&L's Mercedes-Benz businesses moved into Hertfordshire in July 2002, when it was selected as one of Daimler UK's key business partners in establishing a revitalised national retail structure.
L&L Automotive. is a company registered in England and Wales with company number 4415393
VAT No. 794 6047 92
Mercedes-Benz of Stevenage : +44(0)1438 737800
Mercedes-Benz of Bishops Stortford : +44(0)1279 719333
Mercedes-Benz of Hertford : +44(0)1992 514444