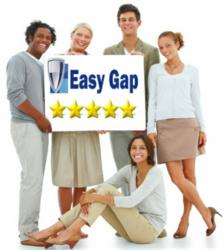 Easy Gap review hails the success of its new website
Wirral, UK (PRWEB UK) 25 November 2012
Featured Gap Insurance brand, Easy Gap, have provided a review into the brands new website. The report highlights improvements to functionality and features, as well as increased security for consumers.
The development and production of the new facility has been a year in the process, and a spokesperson for the brand explained the main aspects of the review that have delighted consumers.
"Since the new Easy Gap website was launched, we have been extremely pleased with the feedback that we have received from consumers. Of course this may not be entirely unexpected as Easy Gap have simply sought to implement changes suggested by our customers.
Our review has highlighted changes in design, and the cosmetics of the sight have been improves immensely we hope, including a shiny new logo.
Of course the main aim of the new site is to go more than 'skin deep'. The functionality of the site has been improved also, with nearly 70% more information added by our 'in house' marketing team.
Access to this information is very important also, and the web design team have incorporated a series of scroll boxes and tabbed content to enable easy access to information for site users."
Whilst site design and functionality is clear upon visiting the Easy Gap site, what is not as obvious are the improvements to security on the website, as the spokesperson confirmed.
"The Easy Gap website also features security improvements also. The website, along with all 'retail' websites owned by Aequitas Automotive, is of bespoke design. This means that the whole Easy Gap site is developed from scratch by our experienced designed team. We do not take the cheaper option of 'open source' script as we feel this gives us total control over security.
We have also taken the opportunity to upgrade our web server security, which is fully PCI compliant, as well as using a Verisign SSL certificate on the new Easy Gap.
We hope that our new facility continues to meet with customer approval, and that our review details for them exactly what they get when they come to Easy Gap."
Easy Gap is a leading Gap Insurance brand in the UK, and featured in the Which Report into Gap Insurance in 2012.