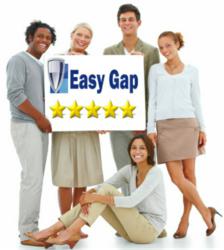 The new Easy Gap is proving a real hit with consumers
Wirral, UK (PRWEB UK) 23 November 2012
Easy Gap is one of the best known and recognised independent Gap Insurance providers in the UK. The brand has recently launched a new version of the easygap.co.uk retail domain, and has hailed the event a success.
The Easy Gap brand has coincided the launch with a new policy features and heavyweight underwriting insurer on the website A spokesperson for the company explained how they have improved the new facility online.
"The Easy Gap brand is a well established independent name in the Gap Insurance world in the UK. When our previous EasyGap.co.uk incarnation was created in March 2011 we considered it the best of its kind online. However, time moves very quickly on the internet and recently we felt that we needed to make improvements to the Easy Gap site.
The timing of the decision coincided with the culmination of negotiations for a new range of Gap protection products for the site, and it seemed perfect timing to revamp the online facility.
The new products on Easy Gap have new product features, some of which are not available anywhere else on the net. Of course this meant a process of new content generation for the upgraded site. Fortunately Easy Gap have an 'in house' marketing team who have been extremely busy over the last few weeks.
The new Easy Gap site has around 70% more quality content than the old version, and we believe this will be well received by both customers and search engines over the next few months.
Easy Gap has also taken the opportunity to upgrade and introduce a new payment gateway, as well as upgrading the security on our servers."
The new Easy Gap website went live less than 24 hours ago, and we are extremely pleased with the feedback we have received so far."
The spokesperson also confirmed that the new web launch was just the first in a series of projects underway at the company that runs the Easy Gap brand, Aequitas Automotive Ltd. Other projects include a new Gap Insurance brand for 2013, several product launches of associated products such as tyre insurance and further promotion of the BMPro dealer system for car dealers and insurance brokers.