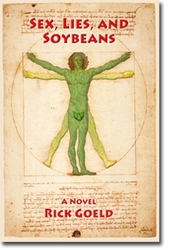 What happens when we become too dependent on genetically engineered food?
Scottsdale, AZ (Vocus) October 19, 2010
A new fiction book has been released by author Rick Goeld. His new novel, Sex, Lies, and Soybeans, asks: "What happens when we become too dependent on genetically engineered food?"
The story takes place in a near-future where bird flu, swine flu, mad cow, red tide, and other diseases have decimated virtually every source of animal protein. Soy has become the world's "go to" crop for protein, and the soy industry has become the world's most powerful food consortium. Their long-term goal: dominate the worldwide food market with genetically engineered synthetic food made with 100% soy. Their interim goal: saturate the American fast-food market. Texas is their first target. If they can conquer the influential state of Texas, other states will fall like dominoes.
But Victoria Blackburn, Chairman of the Texas State Senate's Food and Drug Committee, is blocking key soy-industry-sponsored legislation. Lobbyist's attempts to influence her are unsuccessful, so Plan B is devised: penetrate her family and twist a few arms—or worse—to change the Senator's mind. Her brother, William, a slacker with an overactive sex drive, is identified as the "weak link" in the family.
"When I started this novel back in 2004," Goeld said, "much of the discussion was about genetically engineered soy, corn, and wheat. Today, genetically engineered salmon is the hot-button issue." Goeld was referring to last month's recommendation by an advisory committee to the FDA that genetically engineered salmon would be safe to eat and for the environment ("Panel Leans in Favor Of Engineered Salmon," by Andrew Pollack, The New York Times, September 21, 2010). "We're moving too fast," Goeld continued. "I'm not an expert in biotechnology, but I think many people would like to see thorough studies of the long-term effects genetically engineered salmon will have on real live human beings, and on the natural salmon population."
Goeld compared Sex, Lies, and Soybeans to Michael Crichton's "Jurassic Park." Both books are a mix of fast-paced entertainment and larger-than-life characters with serious messages about genetic engineering, the abuses of big business, and the limitations of government control.
About Rick Goeld
Rick Goeld earned engineering degrees at the Massachusetts Institute of Technology and Northeastern University, and was formerly an executive in the field of high-tech electronics. His first novel, "Searching for Steely Dan," was published in 2006. He is married, has three grown children, and lives in Scottsdale, Arizona. For more information, visit http://www.SexLiesandSoybeans.com.
###