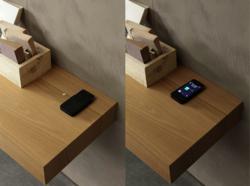 The inclinART and I-modulART bring a whole new element to the world of contemporary wall units.
Miami, FL (PRWEB) June 25, 2013
Merging the latest innovations in mobile technology with functional contemporary furniture, Anima Domus is excited to introduce two new modular wall unit collections from Presotto Italia equipped with the ability to discreetly charge your smartphone or tablet by simply setting it down on a piece of furniture. No cords, no wiring, no hassle! Thanks to Qi technology, you can just place your mobile phone on the base unit and it charges without any unsightly wiring getting in the way.
How does it work? Inductive charging is what happens when two devices touch one another and energy is transferred between them. Qi (pronounced "chee") technology allows inductive chargers and mobile devices to communicate, allowing any smartphone with a QI-enabled accessory or case to charge on the magnetic battery charger that is hidden inside of the furniture. Until today, these two devices had to be designed specifically for each other, but Qi changes that dramatically -- it's the next generation of inductive charging.
The new Qi technology can be installed with Presotto's newest collection of forward-thinking wall units, I-modulART and inclinART, introduced during Milan Design Week earlier this year. I-modulART and inclinART also feature other tech-friendly highlights including LED lighting, integrated dock stations for iPhones and iPods, bluetooth compatibility, and MP3 and USB ports for audio.
"The inclinART and I-modulART were already very impressive debuts during the Salone Del Mobile in Milan this year because they are angled and textured, bringing a whole new element to the world of contemporary wall units. They are different and fun and can easily be installed in any house or condo," says Marconi Naziazeni, owner of Anima Domus. "The fact that they are also such a technologically advanced piece of Italian furniture truly takes this collection to the next level."
The I-modulART collection shows off Presotto's handicraft skills with textured combinations that can be used on wardrobe doors, sideboards, and complementary items. The inclinART collection adds a new dimension to traditional wall units by creating a layer of dimension with inverted corners that can be specified to your taste, creating an eye-catching wall to house your television, accessories, and store goods. Both the I-modulART and inclinART can be equipped with Qi technology allowing for an invisible docking station that is the first of its kind.
Available for special order at Anima Domus.
###
About Anima Domus
Anima Domus, South Florida's premiere destination for contemporary Italian home furnishings, was founded in 1998 by Marconi and Silvia Naziazeni and grew from a small family operation into Miami's premiere destination for high-end contemporary Italian home furnishings. With its emphasis on understanding the needs of each one of its clients and catering to those needs, Anima Domus has become a leading resource for interior furnishings in South Florida. Anima Domus extends special consideration for the trade, offering services such as project development, fabric selection, custom wall units and closet development that are geared specifically toward facilitating an easier purchasing process for its trade clients.
About Presotto Italia
Presotto Industrie Mobili was founded in Brugnera just after the war. Since it's founding in 1948, it has grown consistently, which has turned it into one of the most prominent Italian companies in the furniture sector. Presotto prides itself on combining design with functionality, and offers living room and bedroom furniture including wardrobes, beds and complementary items. All of Presotto's products can be customized; thanks to modular systems that guarantee a perfect result for any home. Presotto also has a contract sector that specializes in "turnkey" furniture dedicated to hotel, residential, and private projects. Presotto is sensitive to environmental issues, both in general terms and referred to the workplace, and has received multiple environmental certifications in order to support these beliefs.