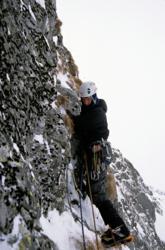 Mt. Washington Valley, NH (PRWEB) December 31, 2012
Synnott Mountain Guides has doubled the number of scheduled winter climbing course dates for its most popular winter climbing courses, which include One Day Mt. Washington Ascents, Intro to Ice Climbing, Intro to Mountaineering, Intermediate Ice Climbing and Presidential Traverse programs. Synnott Mountain Guides, based in Mt. Washington Valley, New Hampshire, offers guided climbs and climbing instruction throughout the entire Northeast, both to groups as well as private guiding. The New England climbing school's most popular climbs, introductory and intermediate ice climbing courses and single day Mt. Washington climbs all take place in New Hampshire and are always in demand.
The scheduled winter climbing courses offered by Synnott Mountain Guides allow more people to experience the amazing climbing opportunities to be found in New Hampshire by significantly reducing the cost to climb compared to private guiding. The ice climbing in New Hampshire and mountaineering challenges found on Mt. Washington and the rest of the White Mountains offer adventure for climbers of all abilities and Synnott Mountain Guides appreciates the opportunity to mentor climbers whether they are going for their very first climb, training for the greater peaks around the world or just seeking a partner for a fun day in the mountains.
Synnott Mountain Guides is owned and operated by professional climber Mark Synnott. Mark has taken on adventure in places like Patagonia, Pakistan , Nepal , India, China, Tibet, the Alaska Range, the Amazon, West Africa and Pitcairn Island in the South Pacific. When not in the mountains, Mark works with The North Face research, design and development teams and he lectures frequently on his life of adventure. He's also a successful freelance photojournalist and a senior contributing editor at Climbing Magazine. His articles and photos have appeared in many publications in the U.S. and abroad, including National Geographic Adventure, Men's Journal, Outside, Skiing and New York Magazine. Mark Synnott is also the author of Baffin Island – Climbing, Trekking & Skiing, a Baffin Island guidebook illustrated with stunning photos and detailed maps. Synnott Mountain Guides includes a dozen of New England's most experienced climbing guides, many of whom have experience climbing around the world. More information about Synnott Mountain Guides, it's climbing guides, Mark Synnott's climbing expeditions and the complete 2013 climbing course schedule can be found at http://www.newhampshireclimbing.com.