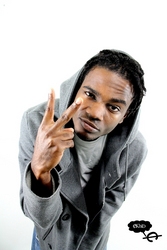 I've had a lot of success on-line because people like who I am authentically.  I love entertaining, I love music, and I love having fun.  Will Smith, Heavy D, and Teddy Riley might have been the last successful people to do what I do and be successful
Mauldin, SC (Vocus) October 19, 2010
The "New Hip Hop Songs" album, by C.KhiD, will be free for all Hip Hop music fans.  From the US and UK Hip Hop markets, to Russian and Chinese rap fans, he is giving everyone free Hip Hop music.  The third Hip Hop album released by C.KhID this year, it will be one of top Hip Hop albums to start 2011.
"New Hip Hop Songs is still part of my Black Box Dreams series. It's titled "New Hip Hop Songs' because I'm a fusion of so much.  Romance, Rise and Falls, Love, Money, and Dreams are all blended into my album.  To me, only a few guys and Nicki Minaj are changing the game to make this new Hip Hop scene and I'm one.  My music is new Hip Hop songs for the Under 30 crowd that is active, focused, and social," said C.KhiD of next Monday's release.
 
Working with producers Johnny Juliano, Bravestarr Beats, and LOSBeats.com, C.KhiD enlightens some of the best rap beats an artist can get.   Still independent currently, C.khiD's producers have created rap beats for Wiz Khalifa, Travis Porter, Nipsey Hussle, and more.  Grabbing the best instrumentals they have for his new album, C.KhiD 'own3d' all rap beats with a charming flow and direction.
 
Totaling over 350,000 ringtone downloads, 4 million YouTube plays, and 100,000 views monthly to ckhid.com, it's sincerely hard to miss C.KhiD when browsing for new Hip Hop songs.  Currently missed on a few popular rap blogs like ThisIs50, HipHopDx, and AllHipHop, C.KhiD is patient and prefers sites pick up on his movement organically.  Engaging in the politics of on-line media, he also launched his own CKHID blog network that ranges from Hip Hop clothing to music.
 
The "New Hip Hop Songs" C.KhiD album will be available for free download beginning Monday, October 25TH.  Links for download will be published on the official CKHID website, ckhid.com and associated blogs Dopehood, DatPiff, Myxer, ThatKush, HipHop2011, Russian Rap, and more. Over 100,000 downloads are expected to the album first month.
 
"I've had a lot of success on-line because people like who I am authentically.  I love entertaining, I love music, and I love having fun.  Will Smith, Heavy D, and Teddy Riley might have been the last successful people to do what I do and be successful," continued C.KhiD on his "New Hip Hop Songs" album and movement.
 
Fans of the New Hip Hop Songs can follow C.KhiD on twitter (@CKHID) for updates on touring dates.  Talking with Hip Hop club and party promoters from around the US and UK rap scenes, the rapper is allowing fans to help decide where he should begin appearing.
About C.Khid:
 
C.KhiD is the lead artist and founder of the "CKHID" digital age entertainment group.  An organization composed of musicians, comedians, poets, and writers he looks to expand vastly during the Hip Hop 2011 year.  CKHID is already becoming a  leader in YouTube video entertainment, digital downloads, and Media properties.   The project looks forward to collaborating with other large on-line entertainment outlets, blogs, and celebrities. For more information please visit http://www.CKHID.com.
Contacts:
Business and Booking Inquiries:
Rodrick Rainey, C.K.H.I.D. President
business(at)ckhid(dot)com
(p) 212.400.0698
 
Erica Blackmon, Public Relations
eblack(at)ckhid(dot)com
# # #