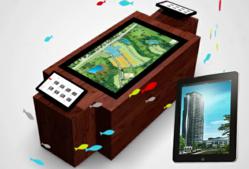 Our goal is to not only empower sales teams, but get customers involved and excited. At Salefish we like to say an informed buyer is a quick buyer
Concord, ON (PRWEB) November 27, 2012
Salefish recently launched an easier way for Homebuilders and Developers to showcase and sell both new homes and condos.
Using a highly interactive site table powered with Sailfish software, sales offices now have the ability to show prospective home buyers different models and lots combinations available. Home Buyers can search by model or lot size.
Condo sales teams can use an interactive iPad application to locate available sites by unit, floor, orientation, price or unit specification.
Salefish also keeps track of availability in real-time. When a home or condo unit sells, the sales team is notified immediately to eliminate any conflicts, mistakes or delays.
Using Salefish, the sales team can run automated worksheets and easily generate sales agreements.
Salefish Partner Rick Haws says "Our goal is to not only empower sales teams, but get customers involved and excited. At Salefish we like to say an informed buyer is a quick buyer."
Utilizing an interactive touch screen system, customers can access a live database and send info to themselves. This same contact info can also alert the sales teams to followup on their leads.
"As soon as prospective buyers walk into the sales office we want them to become actively engage in the process of either buying a home or condo. Not only will they have a better sales experience but sales people can spend more time selling and less time explaining."
FOR MORE INFORMATION ABOUT SALEFISH CONTACT:
Rick Haws rhaws (AT) salefish.ca
(call Salefish at 905-761-5364)
Salefish Inc.
8395 Jane Street, Suite 203
Concord, ON L4K 5Y2