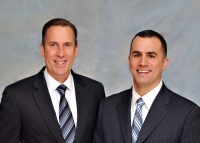 Waltham, MA (PRWEB) November 28, 2012
McGeough Lamacchia Realty reports that new home construction is up in Massachusetts and New Hampshire. This is good news for the housing recovery and will boost job creation. The National Association of Home Builders estimates that each home built generates 3 full time jobs and $90,000 in new tax revenue.
New construction is up across the country. According to a report from the U.S. Commerce Department last month, new construction reached its highest level in 4 years. Privately-owned housing starts in September were at a rate of 872,000, a 15 percent increase compared to August and a 34.8 percent increase compared to September of last year.
John McGeough and Anthony Lamacchia, co-brokers and owners of McGeough Lamacchia Realty, say that a survey done by the Census Bureau shows building permits for all types of homes are up 56 percent year to date compared to last year in Massachusetts. Building permits for multi-family homes in the state accounted for a large part of the increase, with 136 percent more permits this year compared to the same time period in 2011. Building permits for single-family homes increased 19 percent. In New Hampshire, building permits for both single- and multi-family homes are up 6 percent year to date.
In 2005 the number of building permits in Massachusetts reached a high of 24,549. But the following year that number dropped 20 percent and continued to drop each year until 2010 when the building permit numbers finally started to show an increase. In New Hampshire, building permits reached a high of 7,586 in 2005, but the state experienced a 25 percent drop in permits in 2006. The number of permits continued to drop every year until 2010.
This year's home sales have shown a strong improvement. September marked the 9th straight month home sales in Massachusetts and New Hampshire have increased this year. The demand for homes, however, has outpaced the current supply. The National Association of Realtors reported last month that listed inventory is 20 percent below a year ago when there was an 8.1-month supply.
The Boston Foundation released their annual Greater Boston Housing Report Card this month which analyzed housing data from the Warren Group to provide insights into the current housing market. The report cites two different housing market forecasts: one based on current trends and one based on stronger economic growth in Massachusetts. Both forecasts predict a need for more homes to be built: at least 12,000 homes a year under the current trends, and if the economy continues to strengthen, the report recommends tripling the overall production from current levels to more than 19,000 units per year.
The demand for homes in Massachusetts is increasing for several reasons. The strong economy is attracting more workers looking for housing. Interest rates remain at record low levels attracting more buyers. As monthly rents continue to rise more people realize owning a home can often be cheaper than renting. And more retirees are entering the market looking to downsize. With an increase in demand and fewer homes for sale, there's an increase in competition for homes, which can increase prices and even multiple offers on homes.
In 2012 year to date building permits in Massachusetts are now at 7,430, meaning the state is already pacing to beat 2011 numbers. The same is true in New Hampshire, where building permits are at 1,928 year to date, and are pacing to beat permit numbers for 2011.
For more information visit the New England Real Estate Blog.
About McGeough Lamacchia Realty:
McGeough Lamacchia Realty is the number one Real Estate Agency in Massachusetts and named one of the fastest growing Real Estate Companies in the U.S in 2012 by Inc. Magazine. They are a full service real estate agency serving home buyers and sellers Massachusetts and New Hampshire.
Sources:
U.S. Census Bureau News Joint Release Oct. 17, 2012: New Residential Construction Report
U.S Census Bureau: Building Permits Survey: census.gov
Greater Boston Housing Report Card 2012: bostonfoundation.org