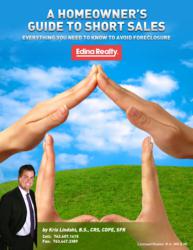 "The short sale process is very complex, and varies from bank to bank, and investor to investor," explains Kris Lindahl.
New Hope, MN (PRWEB) October 04, 2012
The short sale websites that Kris Lindahl, a top New Hope short sale agent launched, will help many Minnesota and Wisconsin residents discover their short sale eligibility. Kris Lindahl understands that the world has changed, and the old ways of reaching people with information are not as effective as using the technology that is available. "Because people are using technology to find the information they are looking for, I have spent months creating websites, eBooks, and videos so it would be easy for people to get the short sale information they need to see if the short sale process is a viable option," Kris Lindahl explains.
Kris Lindahl has gathered some very experienced, hard working full-time Realtors that hold designations including, Certified Distressed Property Experts, Short Sale and Foreclosure Resources, and Council of Residential Specialists as The Kris Lindahl Short Sale Team at Edina Realty. The Kris Lindahl Short Sale Team specializes in general residential real estate, working with first-time home buyers and distressed property sales, plus purchases throughout the New Hope area of Minnesota.
Kris Lindahl, the top New Hope Short Sale Agent, participated in the requirements to obtain the Certified Distressed Property Experts (CDPE), and Short Sale & Foreclosure Resources (SFR) designations. Kris Lindahl has reached the designation of the #1 Edina Realty Short Sale Agent by bringing a level of technological expertise to the table, unmatched by few other agents in the industry.
"I also wrote an eBook to help people with the short sale process, the "Homeowners Guide To Short Sales" which can be downloaded at the HomeOwnersGuideToShortSales.com website," Kris Lindahl explains. "I created websites that have short sale calculators, so people in Minnesota and Wisconsin can figure their short sale eligibility on their own," Kris Lindahl says, and adds, "Which can be found at MNShortSaleCalculator.com and Wisconsin residents can check their eligibility at the WisconsinShortSaleCalculator.com website."
"The short sale process is very complex, and varies from bank to bank, and investor to investor," explains Kris Lindahl the #1 New Hope Edina Short Sale Agent in Minnesota and Wisconsin. Kris Lindahl says, "My short sale experience with all of the different financial institutions has allowed me to help over 240 homeowners with the short sale process so far."