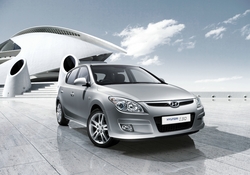 Multiple awards all around the world speak volumes for Hyundai's continuing leadership in small car design.
(PRWEB) September 16, 2010
The awards are coming thick and fast for Hyundai's i series of family sedans according to Tom Ruddenklau, Chief Operating Officer at Hyundai New Zealand
Britain's most influential buyers guide, What Car?, has rated the i30, i20 and i10 top of their class.
The i20, which replaces the Getz in New Zealand over the next few months, has been acclaimed as a WhatCar? 'Best Buy' in the Supermini Car segment, delivering class leading safety features and outstanding value for money.
Already a hit with Kiwis, the i30 was again applauded for its exceptional safety package combined with luxury features, in the Small Family Car class.
And a newcomer not yet seen in New Zealand, the nifty and nimble i10 took the award for 'Best Buy' Supermini under £8,000 (approx NZ$17,500).
Not to be outdone, New Zealand favourite Santa Fe R-2.2 SUV also received a 'Best Buy' in the 4x4 category.
With more than a million consumers referencing the publication and its associated outlets, including whatcar.com each month, WhatCar? is considered the largest and most influential buyers guide in the UK, providing reviews, prices, data and industry insights.
And Britain's biggest-selling weekly motoring magazine, Auto Express, has awarded the Hyundai i10 'Best City Car' at the annual Auto Express New Car Awards 2010.
The model previously won Auto Express 'Best City Car' at the Used Car Awards in 2009, Indian Car of the Year 2008 and Best People's Car in the Asian Auto – VCA Auto Industry Awards 2009.
Meanwhile in Australia the i20 has been named 'Car of the Year' 2010 by ECO Car Magazine, while the multi-award winning i30 has been selected number one choice for families in the small car segment by Australian auto website FamilyCar.com.au.
FamilyCar.com.au is Australia's first website dedicated to providing accurate and informed guidance specifically for families looking to navigate the complex and complicated automotive landscape.
"Multiple awards all around the world speak volumes for Hyundai's continuing leadership in small car design," commented Mr Ruddenklau.
"What we are seeing here is the acclaim of seasoned industry veterans for Hyundai's ability to combine latest generation design with outstanding quality and value."
"In New Zealand that's backed by a locally-owned and operated network of professional, enthusiastic Hyundai people.
"We recognise that each of these factors helps drive the massive growth in popularity of Hyundai in this country, and we strive constantly to deliver to Kiwis the best vehicle-ownership experience," said Mr Ruddenklau.
ABOUT HYUNDAI NEW ZEALAND
Currently Hyundai is the number one selling diesel passenger vehicle manufacturer in New Zealand, holds 8.75% in passenger market share, and 7.12% total market share YTD 2010, was 2nd in passenger sales and 4th in total sales in June 2010, is number two in SUV sales YTD 2010 and has numerous new locations among its 23 dealerships. The brand has been imported into New Zealand for the past 28 years.
Established in 1967, Hyundai Motor Co. has grown into the Hyundai-Kia Automotive Group which was ranked as the world's fifth largest automaker in 2009 and includes over two dozen auto-related subsidiaries and affiliates.
Hyundai is a committed sponsor of sports and cultural organisations in New Zealand and worldwide.
###