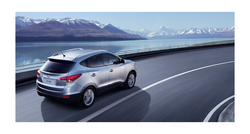 "Hyundai's world-leading design and engineering teams... created the ix35 as a vehicle to match (high) expectations, and New Zealanders are enjoying the benefits."
(PRWEB) September 14, 2010
"Perish the thought," said Tom Ruddenklau, "that anyone fortunate enough to own a Hyundai ix35 would find themselves in a crash."
Tom is Chief Operating Officer at Hyundai New Zealand… and he knows a thing or two about safety.
His latest update is that the ix35, Hyundai's fabulous new 4WD compact wagon with the Korean girl emotionally chasing it in a TV commercial, has the top safety rating.
"So if the unthinkable happens, at least the driver and passengers are well protected."
The ix35 received the maximum five stars from Euro NCAP, the fabled European tester known for its rigorous assessment programme. It's not just the equal of anything in its class; it took the segment's top score for 'child occupant protection'.
It's the third Hyundai in a row to receive five stars, following the i30 hatchback, already a hit in New Zealand, and the i20 supermini which lands here in a few months.
The ix35 received a class-leading score of 88 percent for child occupants, scoring well in tests with both 18-month-old and three–year-old dummies. The test score for adult occupants was 90%, and the safety assist features earned a score of 71%.
Electronic stability control, standard on all Hyundai models in New Zealand, and a seatbelt reminder system played a key role in the ix35's score in the safety assist category.
Hyundai's focus on vehicle safety was highlighted with high scores in the front and rear impact tests, with a stable compartment providing good protection in the event of a crash.
In America, the ix35 previously received the highest marks on all test categories, including the new category of roof strength in a rollover, in a recent test by the highly-respected Insurance Institute for Highway Safety (IIHS).
"Drivers in America and particularly Europe have very high demands, of course," commented Tom Ruddenklau.
"Hyundai's world-leading design and engineering teams at the European R&D centre created the ix35 as a vehicle to match those expectations, and New Zealanders are enjoying the benefits."
ABOUT HYUNDAI NEW ZEALAND
Currently Hyundai is the number one selling diesel passenger vehicle manufacturer in New Zealand, holds 8.75% in passenger market share, and 7.12% total market share YTD 2010, was 2nd in passenger sales and 4th in total sales in June 2010, is number two in SUV sales YTD 2010 and has numerous new locations among its 23 dealerships. The brand has been imported into New Zealand for the past 28 years.
Established in 1967, Hyundai Motor Co. has grown into the Hyundai-Kia Automotive Group which was ranked as the world's fifth largest automaker in 2009 and includes over two dozen auto-related subsidiaries and affiliates.
Hyundai is a committed sponsor of sports and cultural organisations in New Zealand and worldwide.
# # #