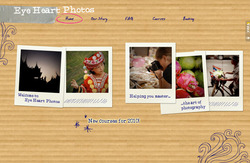 The most recent development this week surrounds the introduction of new animated gallery options. These animated gallery options offer users the option of choosing from various different animations with which to display their pictures
New York, NY (PRWEB) March 17, 2010
Wix.com, an up and coming start up in the field of web creation and design is continually updating their free website builder, keeping an edge over the competition. Last week the company introduced new content to their builder, including new free Flash template designs, images, area styles and more.
Wix has a wish list forum where its users can write the company and share their ideas for the ideal developments and changes in the Wix software. The company also provides lots of free Flash template designs which it also updates, but many of their modifications surround the gradual and continual development of the website builder. The builder is a sophisticated editor that uses a graphic interface that is extremely easy to learn and use, making it possible in fact, for non-technical users to create a Flash website from scratch without handling an ounce of code.
The wish list includes lots of different suggestions, both regarding different elements of the builder and in regards to the Flash templates designs. Once a suggestion is posted, users can vote and rate the importance of this wish.
The most recent development this week surrounds the introduction of new animated gallery options. These animated gallery options offer users the option of choosing from various different animations with which to display their pictures. Each animation leads to a different look and feel that makes it suitable for a different type of website, from a dynamic corporate business look to a family website with a flare. The animations include different styles such as the catwalk animation, the photo stack, FWRD, H-list, time, Vlist and 3-in-a-row. The photo stack animation gallery for example, emanates a Polaroid album feel and can be very catchy in a personal or lighter type of web design.
Wix was established in 2005 and has its headquarters in NY and offices in Tel-Aviv. It is backed by Mangrove Capital Partners and Bessemer Venture Partners. Over the past couple years since launching the open beta version in 2008 over 3,000,000 users have created a free website using the Wix builder software. These websites come from diverse niches. Some of the more popular niches include small businesses and non-profit organizations that particularly enjoy the Wix software as a great promotional tool, photographers, musicians and artists who also enjoy the visual strengths of the Flash designs. More information on can be found at http://www.wix.com.
###