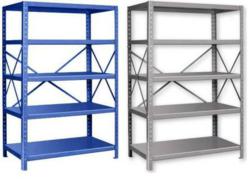 Our customers love our Industrial Shelving and you will too.
Boston, Ma. (PRWEB) July 30, 2012
A Plus Warehouse is proud to sell only the finest Industrial Shelving. Customers love many interesting products that A Plus Warehouse has in stock. A Plus Warehouse stocks many great items. The few mentioned below are the most popular Industrial Shelving units sold. According to Ed Stairman, president of A Plus Warehouse, "Our customers love our Industrial Shelving and you will too."
The Deluxe Open Industrial Shelving and the Deluxe Closed Industrial Shelving are two new products being sold at A Plus Warehouse. These products are great for high density applications. This is due to their high capacity of 1250 pounds per shelf which is twice the capacity of standard posts. With these particular products the company suggests that customers order in starters and adders to save money. A run of five shelving units is one starter and four adders. These products are also available with five, six, and eight shelf varieties. The difference between the closed and opened shelving is that the closed shelving is better for storing loose parts whereas the open shelving is less expensive.
If a customer wants a product with an even higher capacity than the Deluxe Open and Closed Industrial shelving, the BigBlue Krazy Cap is probably the right product. This product has an amazing capacity of 1775 pounds per shelf. The actual metal could hold more but the bolts sheer at 1775 pounds! This product comes with five adjustable shelves on two inch centers. This product also comes with all bracing and oversized pads to protect the floor.
Heavy Duty Mini Die Racks is another favorite item under A Plus Warehouse's Industrial Shelving line. This is nice Heavy Duty Industrial shelving, yet not as crazy as the BigBlue Krazy Cap or the Deluxe Open and Closed Industrial Shelving. This product has a capacity of 1000 pounds per shelf. A nice feature this product has is that is ships all welded and ready to use. There is also a ten inch clearance between shelves. This product also is only available at A Plus Warehouse.
Record Storage Racks is another popular product line at A Plus Warehouse. This shelving is where customers would put their record storage boxes. This product is also available with particle board because A Plus Warehouse knows that this is required and strongly suggests customers order their particle board from A Plus Warehouse. This product however does not come with Record Storage Boxes. A Plus Warehouse does sell this product separately though.
A Plus Warehouse is proud to offer such a large variety of Industrial Shelving. The company in general is always ready to help a customer. A Plus Warehouse has sales people that are very friendly and knowledgeable. A Plus Warehouse also distributes nationwide. When ordering products from A Plus Warehouse, customers are sure to be pleased every time.