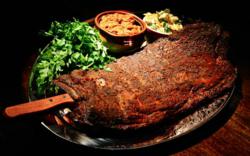 We're proud of the new website and hope we'll see you soon at the restaurant
Norwood, NJ (PRWEB) July 01, 2012
The Blind Boar, a Northern New Jersey Barbeque restaurant has only been open for a short period of time, but has already received high accolades in restaurant reviews for their amazing food with a menu prepared by former head chef Jay Lippin, who also emerged as the Food Network's "Chopped Champion", which aired on May 29, 2012 of the show.
Good barbecue is about the smoke and The Blind Boar's "casual, serious food" motto is meant to be taken seriously. Delicious smoked ribs and brisket, amongst other tasty dishes are the usual fare one can expect as well as a uniquely selected collection of craft beers. All of this is meticulously monitored by Mario Rodriguez, manager of The Blind Boar. From a family whose father was a butcher, Mario knows how he likes his meat prepared and one of his main goals is to make sure that only excellent meats ever reach a patron's mouth.
With this much attention to detail, it was imperative that the website convey this and that is where Route 72 Systems comes in, whose reputation for achieving results is un-matched in the industry. "After talking with Mark, I quickly knew he and his company were a good fit for what we needed", states Rodriguez. He goes on to further say, "They quickly guided us in some technical issues we were having and so far the transition has been seamless."
Updating and designing a new website was the first order of business and The Blind Boar is proud to kick off the July 4th Holiday weekend with their new website which can be seen at http://www.theblindboar.com. To celebrate they are offering specials so make sure to visit the restaurant at their Norwood New Jersey location at 595 Broadway.
"We particularly liked this project because we got to sample quite a bit of the amazing BBQ, definitely a perk of the job but especially when the food is this good!", states Mark Ramos, SEO Director of Route 72 Systems.
About Route 72 Systems
James Alamia created Route 72 Systems LLC, spending the last 15 years tweaking and constantly refining the email lists and marketing tactics used by his company. Most clients first exposure to the company is when searching to buy email addresses for marketing, but once they understand the full scope of what can be accomplished through the available systems, many go on to achieve much more through their continued guidance.